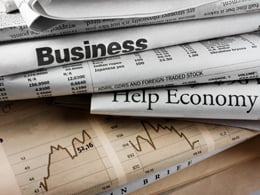 Last week's big economic and market news was the election. What might it tell us about the future? Let's take a closer look.
A recap of last week's news
In case you hadn't heard, Donald Trump won an unexpected and convincing victory over Hillary Clinton. Markets reacted positively, which was also unexpected. Also up last week was the University of Michigan consumer confidence survey, which unexpectedly (a pattern here?) rose to 91.6 from 87.2, against a much smaller expected increase to 87.9. This takes it back to earlier high levels and suggests that consumer confidence remained strong prior to the election.
Overall, despite the surprise election result, the economic signals appear more positive than had been expected. Indeed, with the even more surprising result of a Republican sweep of both houses of Congress, the market's conclusion seemed to be that less restrictive policies could lead to an acceleration in growth. If this is true, we won't see real signs of that for the next couple of months, but the shift in expectations could be a self-fulfilling prophecy.
Expectations for this week
This week's data should give us a closer look at where the Trump era is starting from.
The Retail Sales report will be released on Tuesday; it is expected to show that consumers are still spending.
Headline sales, which include autos, are expected to increase 0.6 percent for the second month in a row.
Core retail sales, excluding autos and gas, are expected to post a second monthly gain of 0.5 percent.
These would be strong numbers.
Industrial production data is released on Wednesday, with an expected gain of 0.2 percent, up from 0.1 percent. Manufacturing output is expected to do even better, up to growth of 0.3 percent from 0.2 percent. Although these would not be particularly strong numbers, they would represent a continued return to growth in these sectors, which would be positive.
Also on Wednesday, the National Association of Home Builders (NAHB) will release its survey. Expectations are for it to remain stable at 63. On Thursday, housing starts are expected to increase from 1.047 million to 1.155 million, on strong demand.
Consumer price data will be released on Thursday as well. The consumer price index is expected to increase by 0.4 percent for the month, up from an increase of 0.3 percent the previous month, and to increase 1.6 percent on the year, up from 1.5 percent. Core consumer prices, excluding food and energy, are expected to increase by 0.2 percent, up from 0.1 percent the previous month, but the year-on-year change is expected to be 2.2 percent, down from 2.3 percent a month ago. All of this means signs of inflation may be becoming more apparent.
Have a great week!