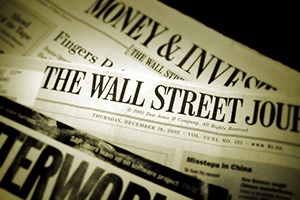 Warren Buffett has said that he finds living in Omaha to be an advantage, as it distances him from much of the daily noise of the financial markets. Since I've been in Hungary at a conference this week, I'm starting to understand what he means.
For instance, I've been reading coverage on the Republicans' health care reform bill. Somehow, from Budapest, I find it much easier to remember that, even though the bill got through the House today, it still faces significant obstacles in the Senate. In other words, much of the current breathless coverage is, at the very least, premature.
Similarly, as I watch the daily market moves, what strikes me is that we remain extremely close to all-time highs. In other words, despite the headlines, markets are optimistic, though they are lacking the energy to take the next step.
Now, I'm not saying that the health care bill is not important. It is, for reasons both political and fundamental. It could significantly change the political narrative, which has real consequences, as well as the actual policy, which affects tens of millions of people. The bill is important to us as citizens, but not so much to us as investors.
Part of the challenge of investing is isolating what matters from what doesn't, so you can act on the former and not the latter. Determining what matters is hard. Acting solely on what matters, rather than on emotion, is even harder.
A different perspective
For me, one of the things I will take away from this week abroad is that perhaps I need to be even more careful about how I triage my daily reading. Currently, I try to focus on primary news sources rather than less mainstream interpretations. I can't avoid reading the papers, but I think reading them the day after they are published might help drain some of their immediacy. This is an approach I already use with many research reports, where flipping through on a weekly basis helps me separate the more consequential points from those that really are one-day wonders.
I also find that removing some of the immediacy from my reading helps keep my emotions in check. Eliminating the time component seems to mitigate the emotional component as well.
In many respects, this perspective ties in to many things I already know. Rules-based investing, for example, allows you to develop your decision criteria without any time pressure or emotional stress. This makes it easier (although not necessarily easy!) to act on those criteria during stressful times. Adapting my reading habits will simply apply the same principles to the initial acquisition and processing of information.
Something to think about, anyway. I have learned a lot and had a great deal of fun in Budapest. This is just one more lesson to take away with me.