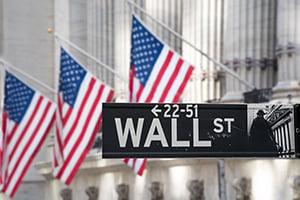 I was thinking again about the interesting times post. I want to give another slant on it that might help people get through the interesting times that are likely ahead: to separate our Wall Street thinking from our Main Street thinking. If we keep our minds firmly on Main Street, we can ride out quite a bit of news without getting derailed. It is when we start listening to Wall Street that we can get into trouble. This may seem a bit odd, coming from me. I'm a Wall Street creature, right?
We live on Main Street
You could certainly see me that way, but in fact, I am not. Commonwealth is not located on Wall Street. We are in a small suburban town where they used to make watches, not far, in fact, from Main Street. My job is not focused on what happens on Wall Street but on our advisors and clients—who are also on Main Street.
That's not to say I don't keep an eye on Wall Street. Of course I do, as you see every day here on the blog. Notice, however, that my focus is always on what the Wall Street news means—or doesn't mean—for clients. We keep an eye on Wall Street, but we live on Main Street.
I developed this worldview when I was writing my book, Crash-Test Investing, and I think it captures very well not only what we are doing here at Commonwealth but also how the average person should be looking at their investments.
Ignore it!
Translated into the language of the interesting times post, a way to make the distinction between Wall Street and Main Street is simply to assess whether a news item affects your daily life. If it doesn't, you can ignore it. Simple as that.
Oil prices down/up? Will your life be affected if gasoline prices rise or fall by a nickel? If not, ignore it. Market down 10 percent? Does this affect your ability to pay your bills? Ignore it. Trade war? Government shutdown? Weak/strong jobs report? Interest rates up/down? Ditto.
Note that if something does affect your life—interest rates when you are buying a house, for example—by all means pay attention. If not, though, looking at the short-term news cycle can derail your own long-term needs and goals. Wall Street needs the short-term news and thrives on it. Main Street doesn't and can't.
The wisest course: Letting go
As an investor, your goals span years and decades, and your financial plan is built on that time frame. You can think of it as a long-distance drive. A small event, something that doesn't shake your life, won't push you away from your goals and can safely be ignored. In fact, that is the wisest course. Can you imagine trying to reroute yourself around every traffic jam and traffic light? You just deal with it and move on. That is exactly what we should be doing with the news.
I do cover all of the Wall Street news on the blog because people do watch the news and do worry. I also try to make sure that if it might affect your life, I call that out. For most of what I cover, however, you can safely apply the Main Street rule—and ignore it.
I have to pay attention to Wall Street. You don't. And unless you enjoy it, you may be better off just letting it go.