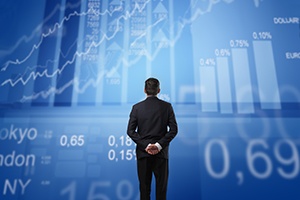 The third quarter looks like another good one, at least here in the U.S. Despite ongoing turmoil—both political (with the Kavanaugh confirmation battle) and economic (with the rising trade conflict and tariffs)—markets rose steadily, reaching new highs. Markets abroad were not as positive, with emerging markets down and developed markets generally flat. On the whole, however, investors should be happy. Given the very real risks we faced at the start of the quarter, things could have been much worse. But will we be as lucky in the fourth quarter?
Rising risks
The risks certainly have not gone away and, in fact, appear to have gotten worse. Tariffs, once largely a threat, are now a reality. The Kavanaugh hearings have poisoned Washington to an even greater degree. Plus, with the midterm elections pending, there is a very real chance that we'll see a change of control in Congress, with all of the political and policy uncertainty that could imply.
Just as with the third quarter, while these risks are real, the effects on the economy and markets should not be nearly as dire as people fear. The government policy that actually drives the economy, tax, and spending will continue to be stimulative. Although the Fed just raised rates and will likely do so again in December, it was because of growth. Historically, rate increases at this level have been good for the market. Finally, the midterms will be consequential but not from an economic perspective, especially over this time horizon.
Economy growing
Beyond government policy, the economy keeps growing. Hiring remains strong, and wage growth looks to be accelerating. Consumer confidence is responding by jumping even further, to the highest level since 2000. Business confidence and investment also continue to be strong. All of the major sectors of the economy should continue to expand, which will support company earnings. That is what will ultimately drive markets.
Earnings are also expected to grow strongly. Analyst expectations are for strong gains over the next couple of quarters, which should drive continued appreciation. Beyond that organic growth, there is also the potential for higher valuations, as the market is currently at the lower end of the range over the past five years or so. Even if valuations don't increase, the fact that they are at the low end of the recent range should act as a cushion for any adverse events.
What could shake the markets?
To be sure, we might see those adverse events. While the tariffs and trade war look to be more of a headwind than a hurricane, things could certainly worsen and shake investor confidence. Similarly, while growth looks likely to continue, a negative surprise—in hiring, for example—might make investors question how long the expansion can continue. And, of course, there are multiple risks outside the U.S. that could shake markets.
That said, the strong fundamentals and high confidence levels here in the U.S. have allowed us to weather much more turbulence over the past several years than anyone might have thought. Nothing ahead of us looks worse than what we have seen recently, and many of the biggest risks have subsided. Last quarter, for example, there were fears about North Korea and an emerging markets crisis. Now, both of those have subsided. In many ways, for all the risks we now face, we are in the best position we have been all year.
Keep calm and carry on
Because of that strong position, it seems likely—despite everything—that U.S. stock markets will keep moving higher through the fourth quarter. I don't think we will necessarily see the same gains we saw in the third, but I remain comfortable with my midyear target of around 3,000 for the S&P 500. While we will certainly see volatility this quarter, we still should have some upside.