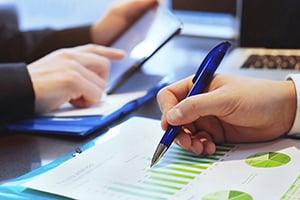 Once again, we are about to get the monthly jobs report, which comes out tomorrow. As with every month, this is one of—if not the—biggest economic reports. For the economy, more jobs are good: more workers, more wage income, more spending ability, and so forth. No real downside. But for financial markets? A strong report can be problematic. Those workers—earning and spending their wages—add to demand, which adds to inflation. With the economy slowing and with the Fed suggesting yesterday that it may pause rate increases, tomorrow's report is especially timely.
All Eyes on Job Growth
The primary question investors will be asking is whether job growth is strong enough to keep the economy going but slow enough to allow inflation to keep edging down. Any number in the 150,000 to 200,000 range is likely to be in that sweet spot, with some give either way due to the natural variability in the data.
The past couple of months have been stronger than that, with a particular surge early in the year, but we have seen some slowing. Other labor market data (e.g., the number of open jobs and layoffs in particular) has also shown some slowing. Based on all that, we can reasonably expect a lower number this month than last month's gain of 236,000.
On the other hand, this month's ADP jobs report came in much stronger than expected, at 296,000 as compared to 142,000 last month. While the ADP survey is not always a good indicator of what the official numbers will say, that is a big jump—and we need to consider it. So, we have indicators both ways, although on balance the weaker numbers predominate.
Economist Expectations
Economists, in general, are going with the weaker numbers. The average expectation is for job growth of around 175,000, which would be a significant slowdown, but right in the middle of the sweet spot mentioned earlier. Unemployment is expected to stay steady, as is wage growth. The interesting detail in expectations, though, is that the average workweek is expected to tick up a bit. This suggests that even as job growth moderates, the underlying labor demand remains strong. And that is one of the key metrics I look at.
If you combine the expected increase in the workweek with the still very strong job openings number, that says to me that the job market should be stronger than consensus. Given that, I expect job growth to be around 200,000 to 220,000. This does reflect some slowing from last month, but not much, and recognizes the strength of the ADP data. More, I think the risk is to the upside here. We have had expected slowdowns before that didn't materialize, especially at the start of the year. This may be another of those times.
What It Could Mean for Inflation
That said, while this would be good news for the economy, it would also still allow for inflation to keep declining. We have seen substantial decreases in inflation with job growth above this level, so a number in the 200,000 range will still allow prices to keep stabilizing. While a 200,000 number won't make the Fed cheer, neither should it derail any pause it has planned. And that would keep the economy still in that sweet spot, albeit at the higher end.
With a mix of good for the economy and not bad for inflation/the Fed, a number around 200,000 would be a continuation of the prior slowly weakening trend. There is precedent for this, as we saw a similar spike in July 2022, only to see job growth drop back the following months.
Beyond the Jobs Number
We will also want to look at other underlying stats. Wage growth, for example, feeds directly into inflation and has been trending down since the middle of last year. If that stays stable, again it won't be great inflation news—but neither will it be particularly bad. Similarly, the unemployment rate, which remains very low but has stabilized recently and is based on a survey of households and not businesses, will give a take on labor supply versus demand. An uptick here would signal more slowing. The expected stability will be neutral overall from an inflation standpoint, which given the existing downward trend is good enough.
Good News Ahead?
Big picture, what I expect tomorrow is a continued slowdown in job growth, but by less than expected. Job growth should come in around 200,000, while wage growth and unemployment stay steady. If that happens, it will be good news overall. It will mean the economy continues to grow but slowly, which is exactly what we need to either avoid or minimize the effects of a potential recession later this year while still letting inflation trend down. That result will likely be perceived as good (or at least not bad) for markets.