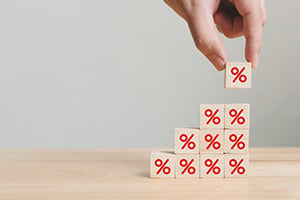 This morning's inflation data came in pretty much in line with expectations. Headline inflation was up 0.2 percent for the month and 3.2 percent for the year. Core inflation (excluding energy and food) was up 0.2 percent for the month and 4.7 percent for the year. So far, so good. At 0.2 percent per month, that would mean an annual inflation rate of between 2 percent and 3 percent. Pretty good, yes?
Too Early to Panic
You will see arguments today that no, it's not good at all. The reason given will be that we saw headline inflation tick up from 3 percent to 3.2 percent on a year-to-year basis; therefore, inflation is on its way back up. Don't believe it. First, the increase is due to base effects, in that inflation 12 months ago was lower. Pure math, not a spike. Second, the more important number, core inflation, continues to tick down. When you look at the solid monthly results and the continued improvement in the core numbers, it is way too early to panic.
But that doesn't mean inflation can't keep rising. So perhaps we should worry about that? Here, too, the news is better than it looks.
Shelter Inflation Matters
The current numbers are significantly influenced by high rates of shelter inflation. This is a lagging indicator, which doesn't yet reflect declines in rental rates. Once we take shelter out, which was all of services inflation, the core number was actually –0.1 percent last month, and the annual rate was 2.5 percent. And when you look at the path of shelter inflation over the next several months, that should turn from a big positive factor to potentially even a negative one. This makes it reasonable to look at inflation excluding shelter as an indicator of where we are headed.
Positive Data Points
There are other encouraging data points as well. Core goods prices were down 0.3 percent last month. Used vehicle prices are expected to drop 6 percent to 7 percent over the next several months. Airline fares are down significantly for the second month in a row. In other words, while inflation is still too high—and the headline number ticked up on a yearly basis—the underlying trends remain very favorable and even potentially on track to get to the Fed's target rates in the next year or so.
The Risks
The big risk in the short term is energy prices, which are moving up. But current pricing would still leave considerable room for lower inflation overall. Wage growth is another potential risk. But, again, at present levels, it is not a problem. There are other concerns as well, but again even in aggregate, they are modest compared to the positive trends.
Trends Remain Favorable
So, is inflation headed up on a sustained basis? Not likely, based on the data as of today. We did see a tick-up on the headline number, and you may well hear a lot about that. But the trends remain very favorable, and it is nothing to worry about.
Remain calm and carry on.