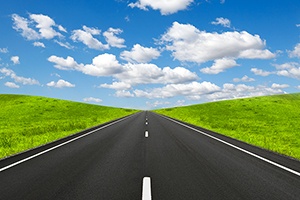 It's a busy day, I am running late, and, honestly, there doesn't seem to be too much that's urgent on the economic and market front. So, let's talk about something entirely different: my desk treadmill! You, the readers, are smart people. I am going to assume you can figure out that this is a treadmill you can use at your desk. (You can find the one I use here.) All good?
Business casual fitness
In many respects, a desk treadmill is just a treadmill you would use at the gym, but it is designed to work in an office. The control pod is on a cable, so you can leave it at your desk, and there is no podium up front to get in the way. The motor is designed to run for hours at low speeds, for sustained walking rather than running. And, importantly, it runs very quietly. This is the business casual version of fitness.
The beauty of it is that rather than making you exercise (and thinking about that and sweating), you can just set it at your desk and walk. It maxes out at 2 mph, which doesn't sound like much. But over time, it adds up. Last year, for example, starting in March I ended up with more than 1,000 miles. This year, I am on track to exceed that—even with all the meetings and travel I do. That's quite a distance.
The number don't lie
It gets even better when you dig further into the numbers. According to my eating app (loseit.com), I burn about 85 calories per mile when I walk at 2 mph. I usually do about 6 miles per day, for about 500 calories burned, or about two-thirds of a pound per week. On an annualized basis, 1,000 miles at 85 calories per mile is 85,000 calories, which is about 25 pounds. Put another way, if I had not been using the treadmill, I would have been up 25 pounds at the end of last year. That's material.
I will admit it looks funny. For a while there, people were actually coming by to laugh at me in my office, and I still get my share of double takes from visitors. And, when the sun is beating in the window, it can be a bit warm. Finally, your legs do tend to get tired. It's not perfect. It does, however, let me use time to pursue goals that, over time, can become easy—since I don't have to think about them.
Back to investing . . .
And this brings us back to investing, surprisingly enough. What else have I set up to do, without thinking, that results in long-term benefits? The answer is my 401(k) plan and steady investment over time. Steady exercise, at a low enough level that I don't really notice it, can yield significant benefits. So can steady savings, as the investments compound over time.
I have sold quite a few desk treadmills to my colleagues and friends. Regrettably, I am not on commission, but you should really take a look. You'll be healthier (and thinner!) if you do, and you will likely live longer. If you want to be able to afford that longer life, however, you should also look into the same kind of regular painless saving and investing, if you haven't already. Put your finances on a positive treadmill as well.
Over time, both your waistline and your bank balance will thank me.