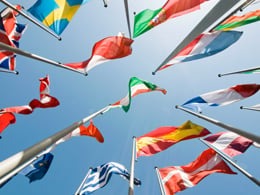 This will be a short post, as I'm headed out for jury duty this morning. It's been some time since I last reported, and I have to admit I'm not very excited. It is a civic duty, though, so off I go.
The question is, Will the eurozone show up for its own version of jury duty?
A stopgap measure for Greece
Greece is in the headlines again this morning, this time with a pending deal that will apparently get the country through the next month. It won't, however, solve the real problem: that Greece simply cannot pay its debts. We'll undoubtedly be having this discussion again in the next couple of months, but for now, markets are rallying on the news that the problem has been "solved."
Europe's bigger issue
Interestingly, Europe finally seems to be getting to grips with its own bigger problem—that is, for a monetary union to work, you also need fiscal union. In other words, if you insist that poorer areas live by rich-area rules, you have to be willing to subsidize them so they can afford it.
Greece essentially ran up its debts while buying German goods. When the Germans call on Greece to pay its debts, they have to remember that German jobs depend on the Greeks continuing to buy. You don't have the jobs without the customers, and the customers need money to pay. In a very real sense, when the Germans write checks to the Greeks, the money flows right back into their own pockets.
We see something similar here in the U.S. Many states are net recipients of federal money, which means other states have to be net payors. You can debate which states are worse, and why, but the fact remains that if two very different economies—like New York and South Carolina, or Maine and California—are to keep the same monetary policy, there has to be some kind of balancing mechanism. Fortunately, in the U.S., there is.
Will the eurozone make it work?
You might argue that this is the moment when the European Union (and especially the eurozone) is making an existential decision: Does it really want to pay what it takes to stay together? Is it going to show up for jury duty?
The Greeks have to start paying their taxes and normalizing their government programs. The Germans have to realize that writing checks is inseparable from continuing to export half of their GDP.
No one wants to show up, but if they don't, the whole thing will collapse.
In my view, the odds are against the eurozone sticking together. The politics have deteriorated enough that making an effective case to the voters would be challenging. That said, the fact that the conversation has finally started makes eurozone survival at least possible.
Of course, whether Greece will still be there is an open question. But if one good thing has come out of the ongoing Greek crisis, it's that Europe is now facing the real question at the heart of its survival.