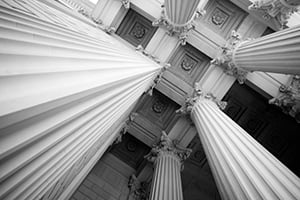 One of the top headlines on the New York Times website is about how Congress is working to pass a bill to avert a government shutdown later this week, postponing it until after the midterms. Sounds like an important story! Yet when I look at both the Wall Street Journal and the Washington Post, there is nothing to be seen. Strange, that!
For those who haven't been paying attention (which, as we will see, is almost everyone), a stopgap funding bill needs to be passed by Friday to continue paying for the government, because the new fiscal year starts on Saturday. At that point, the old spending authorization expires, and we need a new one, which we don't have. So, if we don't get it by then, the government won't be able to pay the bills and will shut down.
In theory, this is an important topic that people are worried about. But while it certainly could be important, the evidence of the media suggests that even for papers that you might think would be interested, like the Post and the Journal, it simply isn't on the radar screen.
We've Seen This Movie Before
The reason for that is interesting. If the government shuts down, as we have seen before, it is kind of a big deal, especially now with so much else going on. But we have seen this movie—multiple times. Almost always, a deal is cut at the last minute, and there is no shutdown. Occasionally, there is a miscalculation, and we have gotten a shutdown, but we figured out ways to minimize the damage. Either way, having done this multiple times before, it probably won't happen. And even if it does? It won't be that bad.
That is why we see so little coverage, as no one at either the Journal or the Post thinks it is going to get all that newsworthy. Even the Times story is more about the process and the political calculations, rather than the economic effects. This is also confirmed when you look at what politicians are doing—or, rather, not doing. There are no hysterical denunciations of the other side, no apocalyptic predictions, and, in short, no drama.
What Does This Mean?
This could mean two things. First, we have now normalized dysfunction. No one is surprised that this is happening; it is expected. Second, we now know our system is resilient enough to blow through the dysfunction. One is a problem, and two is kind of comforting.
On the whole, I am going to go with two. One of the real strengths of the American system, with governance and power widely distributed, is that we can work around malfunctions in part of the system without bringing the whole thing down. Headline examples were in 2000, with the stock market; in 2008, with the financial system; and in 2020, with the pandemic. There was a sudden sharp shock, and the rest of the system rallied to prevent collapse.
The System Works
To some extent, we all get this—especially for sharp shocks—but a less appreciated part of the strength of the system is the ability to work around slower and more regular dysfunctions, like the government funding logjams. But as dysfunctional as it is, we eventually do get there. And in that, we can actually take some comfort that the system is working. Perhaps not as it should, but it is working.
I would say keep calm and carry on, as usual, but so far it doesn't seem necessary. And that is a good thing.