The good news is that confidence was strong last month. Business sentiment bounced back in a big way, to a 21-year high. Consumer confidence rose even further, to an 18-year high. But the less good news is that job growth weakened on a monthly basis and interest rates rose. For both, though, there are other factors to consider. Job growth, for example, was revised up significantly for previous months, more than offsetting the monthly shortfall and keeping the annual growth figures healthy. Plus, rising interest rates widen the spread, reducing the chance of a yield curve inversion.
Although there are some worrying signs, then, the continued strength of these indicators suggests that the recovery continues and that positive trends remain in place. The question of whether the tariffs are finally starting to have an effect remains open, but the current data indicates that, if so, the effect is minor.
The Service Sector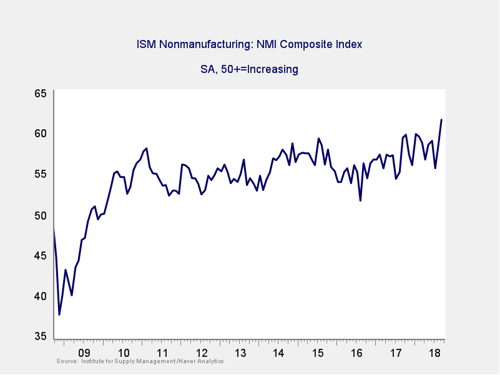 Signal: Green light
After a drop in business confidence in July took it to the lowest level of the year, we saw a recovery in August and a further leap last month. That recovery—from 55.7 in July to 61.6 for September—took us back above the June level of 59.1 and to a 21-year high. This is a diffusion index, where values above 50 indicate expansion. So, the significant bounce back and very high level suggest that growth is likely to continue in 2018. This rise also takes the indicator above its long-term trend line (as you can see in the chart above), suggesting that business confidence may even improve further. This indicator stays at a green light, as it remains very expansionary.
Private Employment: Annual Change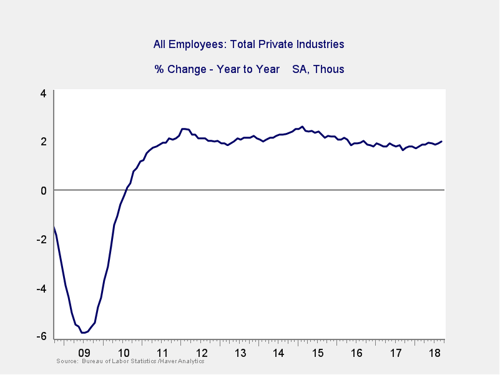 Signal: Green light
September job growth came in at 134,000, well below expectations. But this result was offset by upward revisions to previous months of 87,000, which more than made up for the shortfall. The resumption of growth in the year-on-year trend, as shown in the chart above, suggests that job growth continues to be strong and is likely to stay at a healthy level for the foreseeable future. As such, this indicator remains a green light.
Private Employment: Monthly Change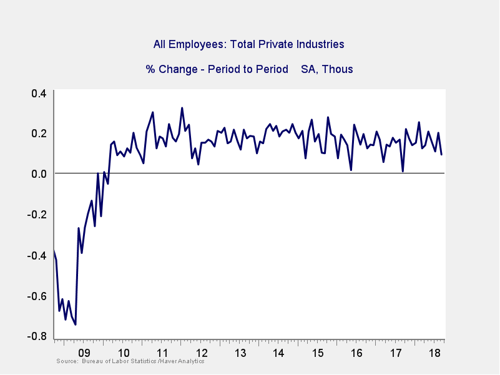 Signal: Green light
These are the same numbers as in the previous chart but on a month-to-month basis, which can provide a better short-term signal.
As noted above, September was a weak month. But upward revisions to previous months, especially August's already healthy results, show that job growth remains solid. One weak month happens occasionally (as shown in the chart), and that is likely the case here. As with the other signals, and given the continued healthy long-term trends, this indicator remains a green light.
Yield Curve (10-Year Minus 3-Month Treasury Rates)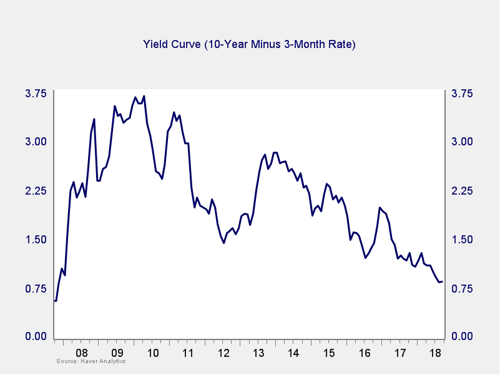 Signal: Green light
The spread between the 10-year and 3-month rates ticked up last month on surprising increases for 10-year rates. Rising rates can be a sign of trouble. In this case, however, the increase reflects continued growth and is a healthy indicator. As it takes the spread higher, this indicator moves further away from risk levels. As such, we are leaving this indicator at a green light.
Consumer Confidence: Annual Change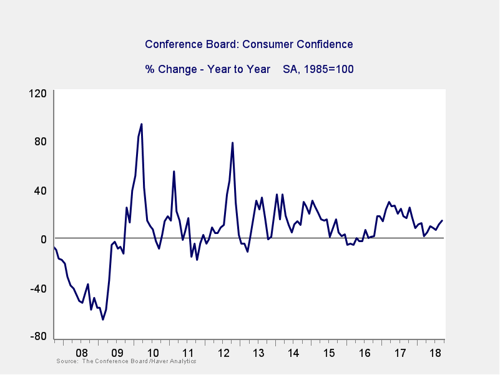 Signal: Green light
Consumer confidence rose even further in September, from 133.4 to 138.4. This rise brought it to the highest level since September 2000. On an annual basis, this increase was enough to push the annual rate of change back up, continuing a trend seen this year. With confidence very high on an absolute basis and with the annual change both positive and well outside the trouble zone, there are no signs of risk here. We will leave this indicator at a green light.
Conclusion: Economy growing, positive trends may accelerate
All four indicators remained positive on an absolute basis, and the data continues to be strong. Recent improvements after a period of relative weakness suggest that present conditions remain favorable overall and even seem to be improving.
The economy gets a green light for October.