February's data continued to be quite good. We saw improvements in many areas, particularly in employment, suggesting continued and possibly accelerating growth into 2018. Job growth jumped substantially, coming in well above expectations, and both consumer and business confidence remained at very high levels. Fed policy continues to be stimulative, and recent increases in long-term rates steepened the yield curve—often a positive sign. Overall, this month's strong economic data indicates that the weakness at the end of 2017 has passed, although policy remains a concern, particularly around trade.
The Service Sector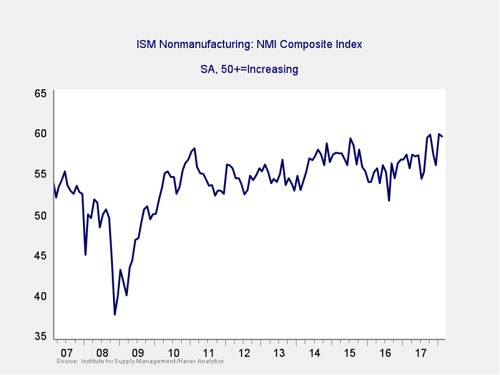 Signal: Green light
Business confidence remained at very high levels as the Institute for Supply Management (ISM) Nonmanufacturing index dropped slightly, but by less than expected. The drop, to 59.5 for February from 59.9 in January, was above expectations and leaves the index close to the post-recession high of three months ago. This is a diffusion index, where values above 50 indicate expansion. This continued strength—after a pullback—suggests that growth may be more likely to accelerate in 2018. Going forward, these levels of confidence should keep driving economic growth, leaving this indicator at a green light.
Private Employment: Annual Change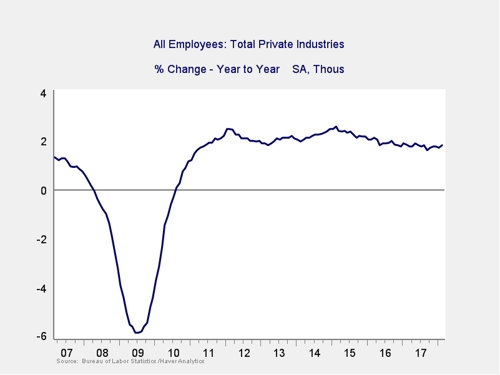 Signal: Green light
February job growth came in at 313,000; adding to the good news, the January figure was revised up from 205,000 to 239,000. This was very much above expectations and actually took the annual growth trend back up, which is something we have not seen for several months. Of course, this level of job creation will not continue indefinitely. But the fact remains that job growth is accelerating in 2018, which will continue to help both confidence and growth.
Because this is an annual figure, the changes are slower and smaller than those we see in more frequently reported data. Overall, this indicator remains a green light.
Private Employment: Monthly Change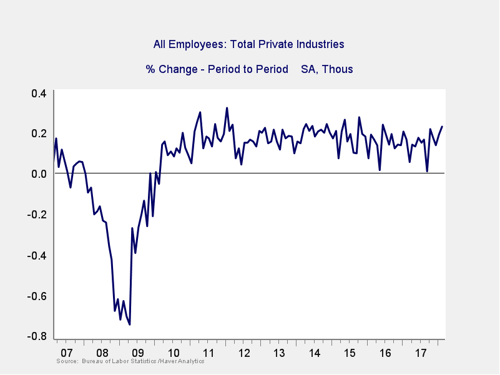 Signal: Green light
These are the same numbers as in the previous chart but on a month-to-month basis, which can provide a better short-term signal.
As noted above, February was an extremely strong month and, after a weak December, is the second strong month in a row. Overall, job growth is certainly high enough to keep up with population growth, while the rise in the employment-to-population ratio suggests that people are moving back into the labor force. As with the other signals, this indicator remains a green light.
Yield Curve (10-Year Minus 3-Month Treasury Rates)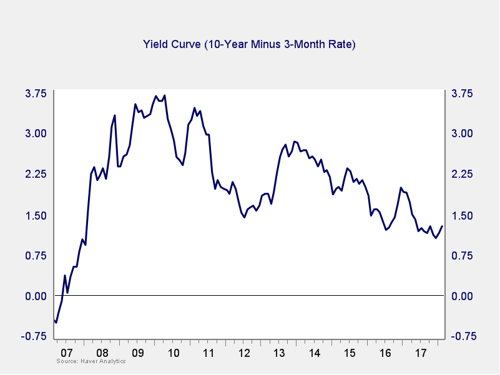 Signal: Green light
The spread between the 10-year and 3-month rates rose a bit last month, as longer-term rates ticked up in the face of a combination of faster growth and the perception of rising inflation risks. A larger spread takes us further away from the trouble zone, so we are leaving this indicator at a green light. Future rate hikes by the Fed might narrow the spread further, which will be a key area of concern as we move into 2018. For the moment, however, the concern has moderated.
Consumer Confidence: Annual Change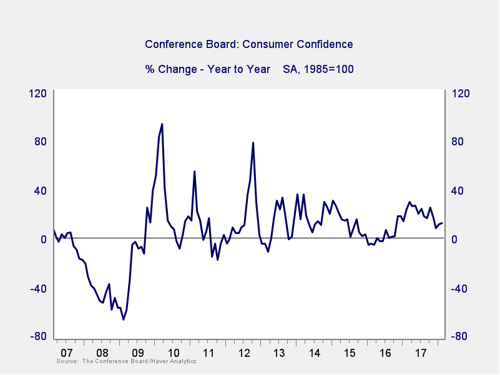 Signal: Green light
Consumer confidence rose further in February to the highest level since 2000, taking the annual change back up a bit. As with the other indicators, this indicator has both improved and remains well outside the trouble zone, so we are leaving it at a green light.
Conclusion: Economy growing, positive trends improving
All four indicators remained positive on an absolute basis, with jobs and consumer confidence showing substantial improvement. After a weak fourth quarter of last year, the trends have returned to positive territory, suggesting that growth may be accelerating.
Overall, conditions remain favorable, and the economy gets a green light for March.