Despite rising concerns as the Fed raised rates and trade tensions ballooned in June, the data remained significantly positive in all four major economic risk factors we track here. Job growth pulled back slightly on a monthly basis, but it continued to accelerate on an annual basis. Consumer confidence remained strong, and business confidence increased—taking the trend back to positive territory. Finally, while the Fed raised interest rates, as expected, it also endorsed the strength of the economic expansion in its statement and press conference, which was helpful. Overall, the strong economic data indicates that growth continues and that the soft spot earlier this year was just that.
The Service Sector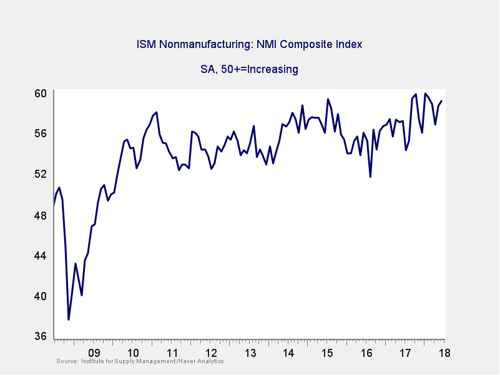 Signal: Green light
Business confidence bounced back even further last month, returning it close to peak levels and extending the upward trend of the past couple of years. The bounce—to 59.1 for June—was above the May level. It also beat expectations for a slight decline, leaving the index at a level that supports faster growth. This is a diffusion index, where values above 50 indicate expansion. Its continued strength suggests that more growth is likely in 2018. Plus, the rising long-term trend line (as you can see in the chart) suggests these levels of confidence could keep driving economic growth for some time. This indicator stays at a green light.
Private Employment: Annual Change
Signal: Green light
June job growth came in at 213,000, above the expected 195,000, and May was revised up from 223,000 to 244,000. These numbers suggest that recent strong job growth is a solid trend, which was further supported as more workers moved back into the labor force. On an annual basis, job growth is actually improving, as can be seen in the chart above. As such, this indicator remains a green light.
Private Employment: Monthly Change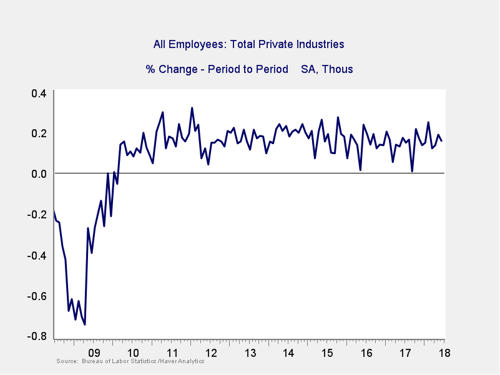 Signal: Green light
These are the same numbers as in the previous chart but on a month-to-month basis, which can provide a better short-term signal.
As noted above, June's strong results and the upward revisions to job creation in May suggest that job growth remains solid. Further, it is likely to remain more than high enough to keep up with population growth, even as the rise in the employment-to-population ratio suggests that people are moving back into the labor force. As with the other signals, and given the continued positive long-term trends, this indicator remains a green light.
Yield Curve (10-Year Minus 3-Month Treasury Rates)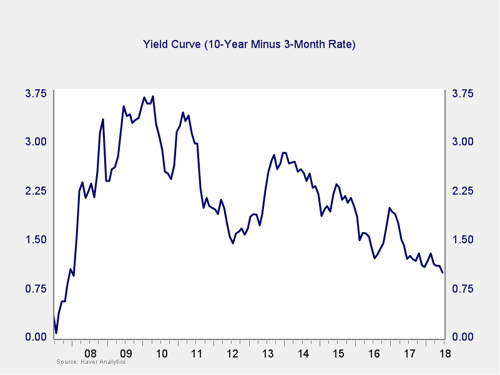 Signal: Green light
The spread between the 10-year and 3-month rates dropped slightly last month, which was expected given the Fed rate increase. While the range continues to narrow, we are still above the trouble zone and outside the immediate risk levels. As such, we are leaving this indicator at a green light. Future rate hikes by the Fed might narrow the spread even more, which will be a key area of concern as we move further into 2018 and will need to be watched.
Consumer Confidence: Annual Change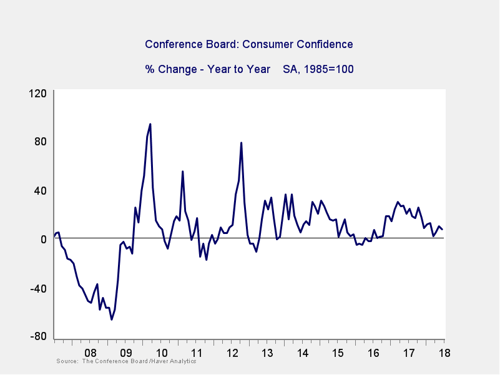 Signal: Green light
Consumer confidence ticked down further in June, from 128 to 126.4. Still, it remains close to February's peak, which was the highest level since 2000. On an annual basis, the change continues to decline, suggesting the trend is now downward. But confidence remains quite high on an absolute basis, and the annual change remains well outside the trouble zone. Nonetheless, the negative trend suggests confidence may well have peaked, and we will need to keep an eye on it. But with no signs of immediate risk in the annual change figure, we will leave this indicator at a green light.
Conclusion: Economy growing, positive trends may be peaking
All four indicators remain positive on an absolute basis, and the data remains strong. Continued improvement in job growth combined with high levels of confidence suggest that conditions remain favorable overall. The economy gets a green light for July.