July's data was largely positive, with improvements in employment and consumer confidence leading the way. With unemployment at a 16-year low and no signs of slowing, the strength of the labor market is continuing to power the current recovery. While business confidence showed some signs of softening, overall conditions remain healthy.
The Service Sector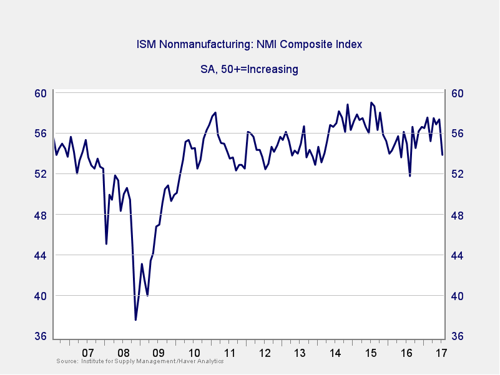 Signal: Green light
The ISM Nonmanufacturing Index disappointed in July, coming in well below both June levels and expectations. This is not a positive development, but it could be just noise. The index remains at an expansionary level, and we have seen similar one-month declines in the past. But that being said—and given the strength of recent data—this is worth watching but is not an immediate concern. This indicator, therefore, remains a green light.
Private Employment: Annual Change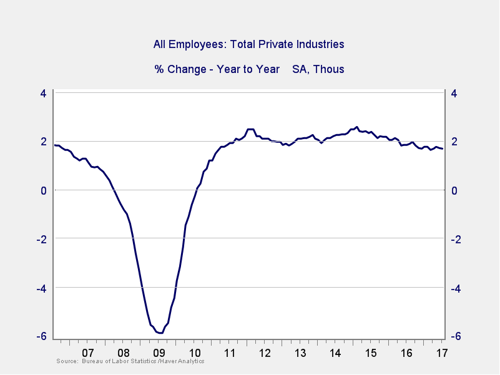 Signal: Green light
July job creation beat expectations: 209,000 jobs were added against expectations of 180,000. In addition, June's already strong results were revised upward to 231,000 new jobs. The unemployment rate ticked down slightly during the month, which was positive given an increase in the labor force participation rate.
Because this is an annual figure, the changes are slower and smaller than are those we see in more frequently reported data. Given the volatility of employment growth, this indicator remains a green light, although the current downward trend bears monitoring.
Private Employment: Monthly Change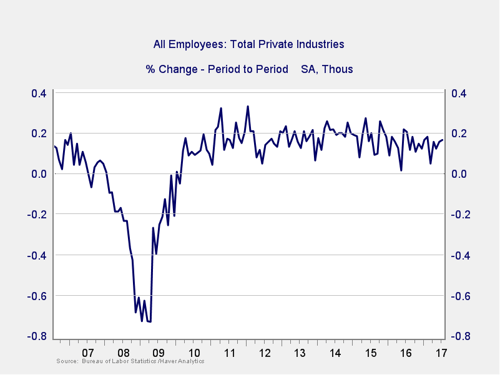 Signal: Green light
These are the same numbers as in the previous chart but on a month-to-month basis, which can provide a better short-term signal.
Over the past two months, 440,000 new jobs have been created. This is a very solid result given the low unemployment rate and the overall healthy nature of the employment situation in the U.S. The underlying data was also positive, as average hourly earnings increased by 2.5 percent year over year. With two strong months, this indicator remains healthy—and at a green light.
Yield Curve (10-Year Minus 3-Month Treasury Rates)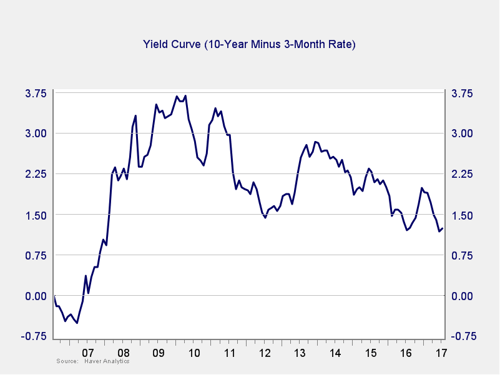 Signal: Green light
The spread between the 10-year and 3-month rates has dropped to the lowest level since the financial crisis, but it appears to be stabilizing. As such, and since it remains well above the trouble zone, we are leaving this indicator at a green light but will continue to monitor it.
Consumer Confidence: Annual Change
Signal: Green light
Consumer confidence increased slightly in July following decreases in the previous three months. This measure now sits at its second-highest level in 16 years and shows no signs of slowing. This high level of consumer confidence bodes well for second-half growth and leaves this measure as a green light.
Conclusion: Healthy economy, positive trends improve
The improvements in confidence and job growth are significant positive factors here and largely offset the weakness seen in business confidence. In addition, the possible stabilization in the yield curve reduces immediate risk. Overall, conditions remain favorable, and economic risks are well contained. The economy gets a green light for August.