Today, I'm launching a new series of monthly updates on risk factors that could signal economic trouble ahead. (The data comes in on a regular basis, but its economic significance doesn't change that quickly.)
The data series highlighted here have proven to be reliable storm signals—and they're suggesting a pretty nice summer ahead.
The Service Sector
Signal: Green light
Looking at the chart below, you can see that surveys of the service sector fell to and below 50 in the past two recessions. Despite a first-quarter drop-off, we remain well above problem levels.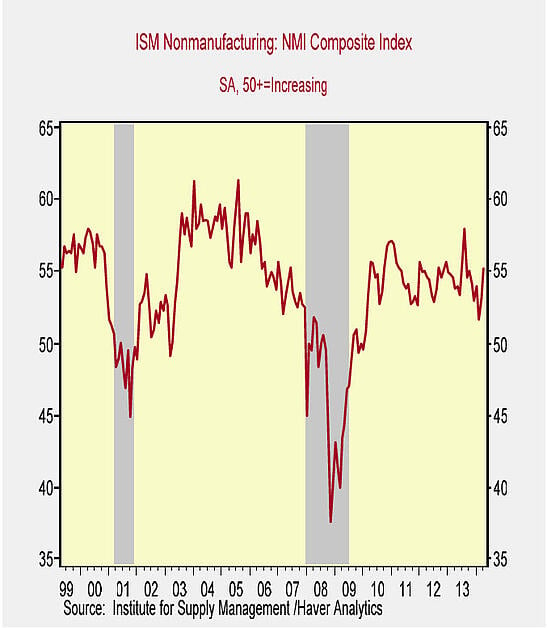 Private Employment: Annual Change
Signal: Green light
Changes in private employment are critical to economic growth. As you can see below, growth dropped to and below zero before the start of the past five recessions. We're now at levels consistent with the peak of the mid-2000s and the mid-1990s. No problems here.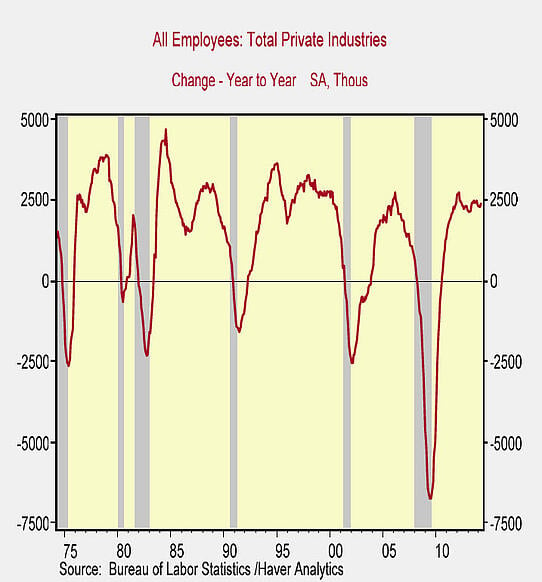 Private Employment: Monthly Change
SIgnal: Green light
Here are the same numbers on a monthly basis—again, looking good.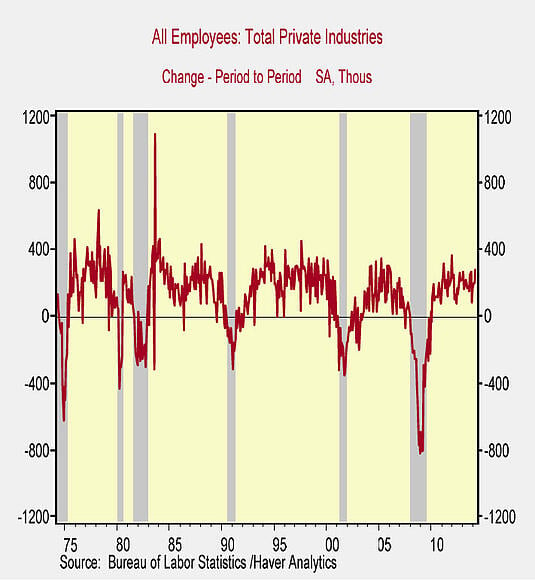 Yield Curve (10-Year Minus 3-Month Treasury Rates)
Signal: Green light
As the old saying goes, economic expansions don't die of old age, they're killed by the Fed. One way of seeing whether the Federal Reserve has its hatchet out is to look at the difference between long- and short-term interest rates. You can see that they dipped to or below zero in the past five recessions, but are around 3 now. No problem here.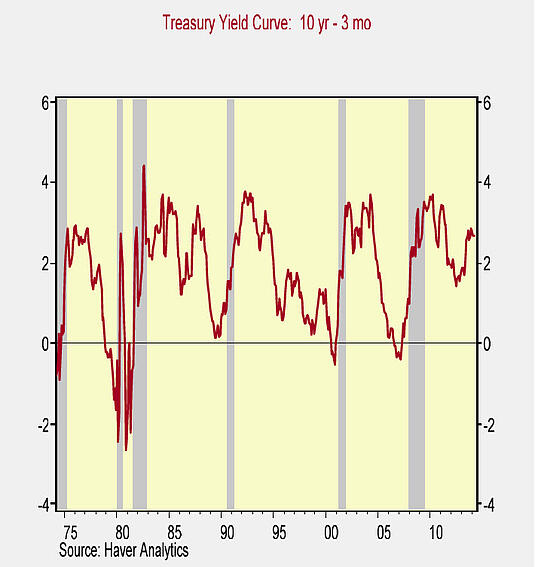 Consumer Confidence: Annual Change
Signal: Green light
Confident consumers buy things and generate economic growth. As the chart below shows, a drop in consumer confidence of around 20 percent has led the past five recessions. Consumer confidence is growing right now and remains well above the trouble zone.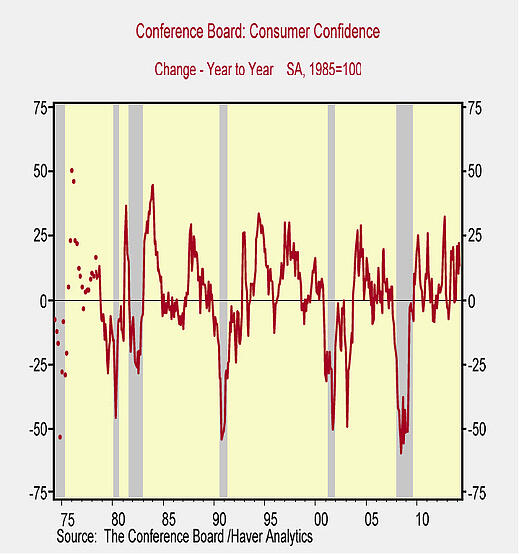 Economic Forecast: Break Out the Sunscreen
Based on the current signs, the economy looks poised for continued growth. None of the usual risk factors is indicating a slowdown; in fact, most are in line with the healthy levels of the mid-2000s.
I'll update this forecast next month, but for now, it looks like we can expect a nice summer on the economic front.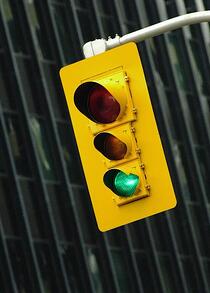 Reminder: As you may have noticed, we're live at my new URL, http://blog.commonwealth.com/independent-market-observer. If you subscribed previously, you'll need to re-subscribe at this location. (I apologize for the inconvenience.) And if you're new to this blog, I hope you'll subscribe and keep coming back!