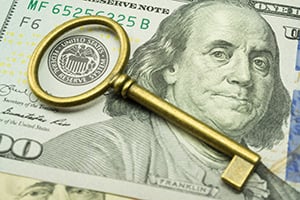 Yesterday, the Fed concluded its regular meeting and came out with the following shocking news: it might start to raise rates in the next two and a half years, instead of the next three years. Markets dropped, interest rates rose, and headlines highlighted the shift in Fed thinking. What's behind this apparent change in plans? Let's start by taking a look at what didn't happen.
Here's What Didn't Happen
Policy rates remained the same. Bond purchases for quantitative easing remained the same. No real discussion about changing them apparently took place in the meeting. In the short term, the most that could be said is that, perhaps, the "talking about talking about" tapering stimulus phase was over and that the Fed might (or might not) start the "talking about" phase later this year. In other words, nothing happened, and nothing is expected to happen for the next several months, at least.
With nothing really changing, analysts focused on expectations—on what might happen beyond the next several months. The change in the dot plot, which shows where committee members expect rates to be in the next several years, is a great vehicle for that. The fact that several members now expect rates to start rising in late 2023, rather than 2024 or later, has been taken as a signal that the Fed will respond to inflation sooner than expected.
That may be true. If employment continues to improve over the next year, at least, then it will meet the Fed's target and open the door for rate increases. If inflation continues to stay high (far from certain, as some components are already turning down), then the Fed will face increased pressure to raise rates. And if the global economy, critical over time to the U.S. economy, continues to recover from the pandemic, then that could also require higher rates.
But none of those conditions apply today, and none will likely apply through at least the end of the year. If you look at the dot plot, some members think they might apply in late 2022, and more by late 2023. Again, they don't apply today and won't for the next year or more.
What Powell Did Say
What Chair Powell did say is that the Fed expects inflation to be higher this year than it thought earlier. That view makes sense, given the two reports we have seen; indeed, it is mathematically inevitable. But it tells us nothing about how inflation will evolve, and there he stuck to the transitory language he used earlier. What he did say is that the economy is doing well, and he expects employment to continue to improve. What he did say is that the recovery continues. And by adjusting their dots on the dot plot, that is what the other committee members are saying as well. This is good news across the board. But no one said they expect to change policy any time soon.
The other thing Powell said, though, is that the Fed is aware of the inflation and employment risks. While the Fed remains optimistic on both, it is certainly watching those risks and is prepared to act on them. But, as the dot plot shows, those risks are not likely to show up for the next two years or more.
So, What's Changed?
Is it meaningful to say we might raise rates in two and a half years instead of three? Given everything that could happen between now and then, I don't think so. One of the limitations of economic projections is that uncertainty mounts exponentially over time. In my own analysis, I think we have pretty good—but not great—visibility over the next quarter, some over the next year, and none beyond that. The Fed, in many ways, acknowledges that uncertainty in that it regularly reviews and revises those projections. In that sense, this meeting's projections are little more reliable than the last ones, at least as far as 2022 and 2023 are concerned. And, because of that, once more the Fed is neither doing anything nor even talking about it.
That can and will change as we get more information. But it hasn't changed yet. Expect the market to realize that over the next week or so.