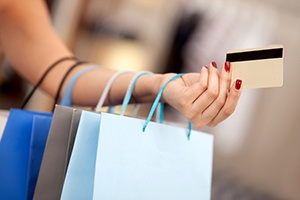 Normally, I don't weigh in on individual economic stats. But when the consumer confidence number came out this morning, my jaw actually dropped and I muttered "wow" under my breath. (That doesn't happen often either!) This is, in fact, such an unusual occurrence that I think we need to consider exactly what it means—which is probably not as good as it looks at first glance.
So, what's the problem?
The February consumer confidence number came in at 130.8. This is well above the January number of 125.4 and well above expectations of a smaller increase to 126.5. In fact, this is the highest level since November 2000, which has been well covered in the press. In and of itself, this isn't a problem. What could be a problem? The only time confidence has ever been this high was during the dot-com boom—before it became a bust—which you can see in the chart below.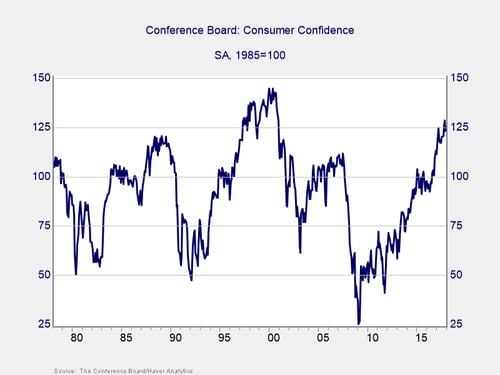 In the late 1980s, confidence got pretty high (but not as high as now). In the mid-2000s, confidence also got pretty high (but not as high as now). The only time confidence was ever higher than now was in the dot-com era. We can also see that at the times when confidence was above the 120 level and it did roll over, the drop was sharp and quick.
How are people feeling right now?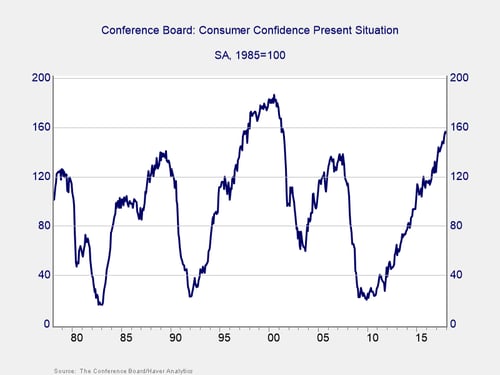 If you look at the underlying data, you see the same thing. The present-situation number—how people feel about where we are right now—is also reaching levels never seen before, except in the dot-com era, as you can see above. When you look at the expectations number, though, it shows how confident consumers are about the future. Then, you get a somewhat different take.
How confident are consumers about the future?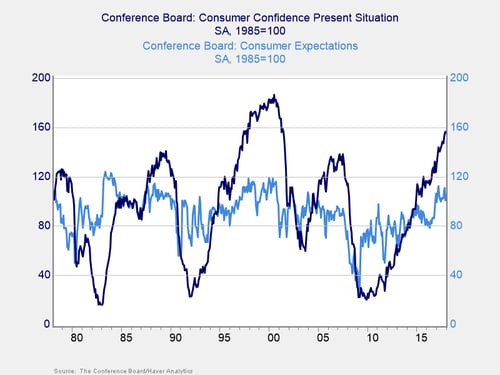 We can see that while expectations are good, they are certainly not as far above typical levels as the present-situation number is. While people feel good now, their expectations for the future are more modest. Also worth noting is that those future expectations are not improving like the current situation is. In fact, future expectations appear to have topped out.
Looking back at history, there are periods where the current situation kept rising as expectations topped out—notably, in 1986–1987, 1998–2000, and 2005–2007. When the gap between what people feel today and what they see into the future widens too much, it tends to collapse both. You can see that in the chart below.
Is a recession on its way?
When the gaps between present and future get close to 50, that means a recession is on the way—and usually quite soon. With the exception of the dot-com era, a recession has typically happened within a year or two.
As usual, this is not an indicator of immediate trouble. This kind of gap can, and has, lasted for years. But the fact that people feel this good now—and are spending and investing on that basis—while they don't feel nearly as good on a long-term basis suggests that the current good times are not sustainable at this level. At some point, we will see another drop. Based on history, that looks likely in the next year or two, unless we have another dot-com era. So, this is not an immediate concern, but it is not that far away, either.
As good as it gets?
What I take away from the strong confidence number is that we are getting very close to as good as it gets. With job growth likely to continue its slow decline, with inflation starting to tick up, and with the Fed very likely to start taking the punch bowl away, it isn't just consumer confidence that looks to be at unsustainable levels.