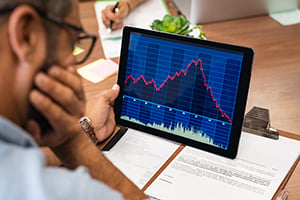 In retrospect, a good candidate for demonstrating the peak of the boom may be yesterday's announcement by Netflix that subscriber growth came in well below expectations during the second quarter: the number of subscribers was up by 2.7 million against expectations of 5.3 million. Worse, in its most developed market (i.e., the U.S.), subscriber numbers were actually down by 126,000, against an expected gain of 310,000. This marks the first time the company has ever seen a decline in U.S. subscribers.
Spotlight on Netflix
Netflix is one of the FAANG stocks (i.e., Facebook, Apple, Amazon, Netflix, and Google)—the tech stocks that have driven markets higher on seemingly unlimited growth. The expectation has been that they were all poised to keep expanding, selling more and more products to more and more people. Until recently, that assumption looked like a good bet, because it kept happening. Now, however, we are seeing signs of slowing in all companies. Further, one of the most visible—on everyone's screens—has actually shrunk. This is a new world.
One more warning sign
Still, we may not be at the peak yet. Netflix subscriptions still went up on a global basis after all, but there are signs we are getting there. It's hard to tell if iPhone sales have peaked, since Apple has stopped disclosing unit sales. But it sure looks like it, and the company's decision to keep mum on sales is certainly consistent with the possibility. Google and Facebook are facing increasing regulatory scrutiny in Washington, DC, from both sides of the aisle. And all these companies have been affected by the rising tensions between China and the U.S., as well as between the European Union and the U.S.
No one event or factor derails a trend, as evidenced by the last tech boom in 2000 and with the housing boom in 2007. Instead, small changes result in growing headwinds until, eventually, the mood just changes. We are seeing more and more of these changes with the economy and the markets. But the latest news from Netflix, one of the poster companies for this era, just seems like it could be different.
Mind you, I am not ringing the alarm bell for the peak. But there is no doubt in my mind this decline in subscribers is one more warning sign.
Capitalism reasserts itself
What makes this decline important is not so much its magnitude (it is minor) but the changing competitive environment it likely augurs. With various media companies preparing their own streaming offerings and pulling shows from Netflix, its competitive position is starting to look more like a content-driven broadcast network than a tech-based media platform, with very different growth and valuation implications. You see the same thing with Tesla, which still has a fairly unique product offering but will face increasing competition from all major auto makers. The competitive future is looking like it won't be nearly as favorable next year as it was last year. Capitalism is reasserting itself at last.
With Amazon and Google, where the threat is not so much competition but rather government regulation, the risk is ultimately the same: that growth will be compromised and limited by outside factors. Think back to the Microsoft anti-trust case, which started in 1998 and concluded in 2001. Although the company ultimately beat the rap, the distraction for management derailed expansion even as the business and market environment changed radically. In the end, it took the company more than a decade to recover.
Market bellwethers
I don't typically talk individual stocks, and this post is not really about these tech companies. As bellwethers of how the market as a whole is trending, though, they collectively show signs that the peak is close. It isn't different this time.