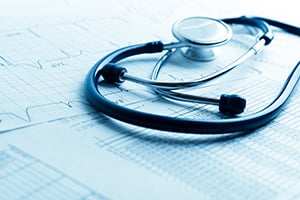 I see the market is bouncing back a bit, and I know the headlines of the day will revolve around the Fed meeting and press conference, which are still a couple of hours away and I will cover tomorrow. So, let's do something a bit different today. Let's take a look at my 100K project.
The Weight Loss Problem
If you remember, this project is something I started nine months ago in an attempt to lose weight without trying to lose weight. I have always struggled with trying to count calories or keeping them below a certain level every day, and even more so when the scale showed scary numbers. So, after applying some solid investment-type thinking to the weight loss problem, I decided to do something different.
Instead of trying to lose weight, I simply started to log my calories. I use the LoseIt! app, and I set it—and this is important—to maintain my current weight. That way, every day, it tells me how much I can eat without gaining weight. I try to stay under that, but if I don't it's no big deal. And every day I record the net balance (negative or positive) on a spreadsheet.
The Big Idea
So far, so what? The big idea here was that I would set a target for being 100,000 calories down at some point. No time frame and, most importantly, no weigh-ins. What I measured was totally under my control, and I could choose to eat whatever I wanted. I thought that by focusing only on what I could control and taking out any prescriptive elements, it would make it maximally possible to succeed.
And so far, I have succeeded. I am now down 86,991 calories since April 26, 2021. I have 13,009 calories to go. On the weight side, as of this morning, I have lost 34.1 pounds. All without a diet or (much) anxiety.
I came up with this idea simply by taking the steady 401(k) saving model and using it for weight loss. If you put a regular amount from your paycheck in the markets over time, you will do well. Markets will go up and down (like my weight). But as long as you focus on just making more deposits, over time, the results will take care of themselves.
In this case, I looked at every day as making either a deposit or a withdrawal from the fat bank. When you log everything and think of it that way, it does change behavior—but without worrying about weight. It puts the focus on the day-to-day decisions, where it should be, and makes it just a matter of numbers and not emotions. If you do the right thing, then good results will follow. I hope to lose another five pounds or so in the next couple of months. Again, there are no defined targets and no time frames. Just 13,009 more calories to withdraw from the fat bank.
Back to Our Regular Program . . .
But what the heck, let's bring it back to investing. Some days (post-Christmas in particular), I made significant deposits in the fat bank, and I could see the weight jump. But by just focusing on the daily calories, I could ignore that and not get derailed. I think the parallel between Christmas weight gain and recent market turbulence is pretty clear. Stay the course, do the right thing, and you will be fine.
And above all that, be sure to keep an eye out for my next book—How to Be Thin and Rich by the Numbers!