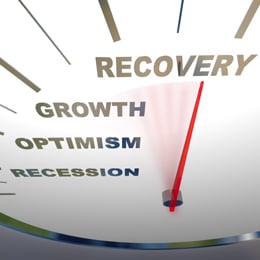 If you haven't already seen the news online, you'll no doubt see it on tomorrow's front pages: first-quarter economic growth was revised down from an anemic 0.1-percent gain to a much worse 1-percent loss.
Why you should ignore the headlines
Looking at the details of the report, we can see where the decline came from—and why it's not something to worry about right now.
Much of the downward revision can be chalked up to lackluster performance in inventories, which were down 1.6 percent. Inventories depend on consumer purchasing, which is holding up, suggesting that the decline will be made up in the second quarter.
The weather was a big factor. Look at the areas that got hit hardest—durable goods, residential and commercial construction, and exports—and it's easy to see how worse-than-usual winter weather played a role. It's difficult to build a home in a snowstorm, much less shop for a car. Intuitively, the decline makes sense, and the data supports the idea that the weather was largely to blame. Consumer spending is up, as are new and existing home sales. Employment continues to gain, increasing by nearly 300,000 jobs in April, with new jobless claims dropping close to their lowest levels in years last week.
So far, the second quarter continues to look like it will be much stronger, and the recovery remains on track.
But what will this mean for corporate profits and earnings?
In general, first-quarter earnings were a disappointment, with slower growth despite many beats (albeit on very reduced expectations). Will a recovery in the second half improve matters?
Probably somewhat, but not as much as it will for the real economy. Much of the decline in profits was from the rest of the world, while reductions in fees from mortgages and reduced trading revenues hit the financial industries' profits as well, and these factors won't recover fully with the weather. Companies are also guiding expectations lower at a higher rate than usual, suggesting their expectations are not strong.
Overall, the real economy should continue to do well, but that may not be enough to match the current expectations for the financial economy.