One of the great things about working at Commonwealth is the depth of knowledge of our team. Today, we have another post from Peter Essele, one of our portfolio managers and analysts.
I've written extensively about the housing market recovery, noting that, with interest rates ticking up, we can now expect appreciation to slow—and that's not a bad thing. In this post, Peter puts some numbers and graphs behind that analysis. Take it away, Pete!
Housing Market Update
Back in 2011, at a time when most investors were very pessimistic on the space, Commonwealth's Research team predicted that there would be positive developments in the housing market over the coming months. Since then, housing prices have moved into positive territory on a year-over-year basis, with the current reading standing at 12.35 percent, the largest increase since 2005. The combined effect of all-time lows on mortgage rates, partially due to the Fed's purchase program, and rising asset levels elsewhere created a perfect scenario for homebuyers.
We first made this prognostication based on the relationship between the blue metric above—which represents one-family homes sold divided by one-family homes for sale—and home prices. When the blue metric trends positive, it means that sales are outpacing supply; when it trends negative, it indicates more supply than sales. Essentially, it gauges supply-and-demand dynamics. Viewed against the year-over-year change in home prices, a strong correlation between the two indices becomes apparent. Furthermore, the blue index tends to trend a few months ahead of housing prices, so it can be used as a leading indicator for prices in the one-family market.
After reaching a value of more than 3.0 earlier this year, the blue metric has trended lower for a number of months now, suggesting a possible slowdown in price appreciation. It's not suggesting, however, that home prices are going to decrease in the near term—only that prices probably won't increase at the pace we saw in the last year. The reversal in the blue metric is partially due to a softening in demand, but it has more to do with a large number of new homes for sale.
The recovery in home prices has spurred new construction, particularly in the Midwest, which is up 40 percent year-over-year, and has brought new inventory to market from households that have been waiting for a recovery before listing. As with any asset market, a large increase in supply during a short period of time typically has an impact on prices, which is why we believe we could see a bit of a softening in the near term.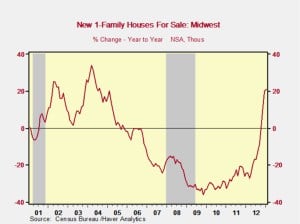 * * *
Brad again. If you look at the first chart, it suggests a decline in house price appreciation to "only" 5 percent per year, down from the current 10 percent to 12 percent. Frankly, the current rate represents a recovery from unreasonably low values and is not sustainable in the long term. A lower appreciation rate is not only consistent with rising mortgage rates but also healthier for the market as a whole in the long run.
The recent pullback in the stock market has some of the same characteristics. Despite the bump yesterday, it is still off its highs—and this can be seen as healthy.
The difference between the two is their dependence on financing, or leverage, which I will be writing more about in the next couple of weeks. Briefly, the residential real estate market has recovered without excessive dependence on financing; meanwhile, the stock market is showing high levels of margin financing, just as it did in 2007. This difference may have a lot to say about how sustainable the gains in both markets are, and it makes me feel good about the housing recovery.