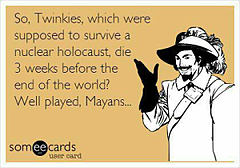 Seeing as the world will be ending tonight, that seems to be the only appropriate headline. I've stocked up on champagne this week; if I have to go, I want to go with a nice demi-sec—Veuve Clicquot, to be exact—and my family around me. There's another couple of bottles in the refrigerator, just in case we have to wait a bit.
On the other hand, if I don't have to go, I had better get going on the commentary. In this case, I think the markets are, in fact, a good predictor of the future, as they don't seem to indicate a significant chance of the world ending. Although they were down a bit yesterday, I would expect a bit more of a sell-off, really, if the world were ending.
The headlines, focused on inside baseball in the financial industry, aren't announcing the end of the world, either. The Libor scandal, discussed extensively in this blog at its very start, is living up to the big future I predicted, with UBS paying a penalty of $1.5 billion for some really egregious manipulation, which made the front pages of the Wall Street Journal, Financial Times, and New York Times. Big news. While UBS may well think the world has ended, I doubt it—there will be worse to come in the form of civil suits against it and many other banks, which will probably cost a lot more. Businessweek reports that Fannie Mae and Freddie Mac lost $3 billion due to Libor manipulation, and you know there are multiple other mortgage lenders (and other lenders) just itching to recover some of the money they lost in the housing bust. You'll be hearing a lot more about this.
The other story today is the sale of the New York Stock Exchange. The NYSE has been independent for more than 200 years, and it says something that even this icon is now in play. Exactly what it says will only become apparent over time, but the role of exchanges has shifted dramatically with the expansion of computer trading and private liquidity pools, not to mention the growing globalization of capital formation. I suspect one of the things it indicates is that the financial industry will continue to shrink under competitive pressure from existing players and new players, and that the financial models that worked in the past are eroding rapidly. I'll have more comments on this as it plays out.
I can't end this post without a mention of the fiscal cliff negotiations. Just as with the presidential campaign, we are moving between "Hooray!" and "Oh no!" regularly, and today is an "Oh no!" day. Despite having apparently come pretty close to a deal, each side is now slagging the other. What does it mean? I don't know, but it could be that Boehner is presenting his plan B to establish credibility before cutting a deal, or that he has truly given up. What we can learn from this is whether either side has its troops in line. If Boehner can't bring his plan B to a vote and win, he probably won't be able to successfully sell any more comprehensive deal—and we go off the cliff. If he can, then negotiations can continue.
Whether intentionally or not, this should provide some clarity on where the House Republicans sit as a group. On the other side, if the bill passes in the House, we'll see whether Senate Democrats hang together and kill it. Either way, we will learn quite a bit about how things may play out in the next crisis: the debt ceiling debate, due next month.
I had planned to make this a short post, but it got away from me. I will (unless things continue to get away from me) be posting lightly for the rest of the year. I hope very much to be writing to you tomorrow. But if not, I hope you, too, have your family around you and your favorite beverage in hand at the end. Good luck!