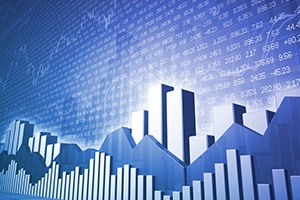 This morning, you may have heard that the U.S. stock market eked out another new record yesterday. Indeed, this is great news and certainly a big deal—as it comes just days after two major hurricanes hit the U.S. and under the mushroom cloud of a simmering North Korea confrontation (remember that?).
Clearly, markets are unfazed and keep moving higher. But why? Perhaps looking at some other recent records may help answer this question.
Household income
The most important recent record to consider is last year's new high for median household income, which finally surpassed the 1999 level. Median income never really recovered during the 2000s, as the 2008 crisis hit while it was still below 1999 levels. So, this is the first new record in a full generation. There are some holes in the data—incomes below the median are not back to 1999 levels. But, on the whole, there has been real improvement, especially over the past five years. The growth in consumer income has certainly supported both the economy and the market, and it is a key reason why markets keep moving higher.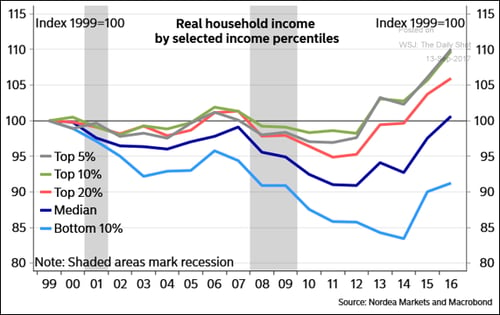 Source: WSJ: The Daily Shot
Job openings
The next new record that matters is that the number of job openings has hit another all-time high. A company that is hiring is a pure expression of both economic need and confidence: companies don't hire if both are not in place. The availability of multiple jobs also supports consumer confidence and household income.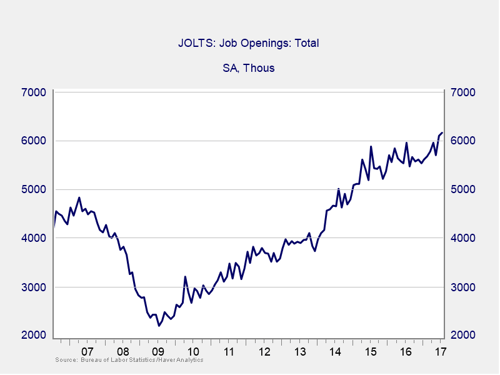 Number of unemployed per job opening
Another new record, this time on the low side, is the number of unemployed people available for each job opening. This number is getting very close to one. Remember, wage growth has been disappointing, yet we have moved to a new high in income. What happens if wage growth picks up due to labor shortages? That could provide a much-needed boost for the lower-income tranches, plus help the economy—and the markets—even more.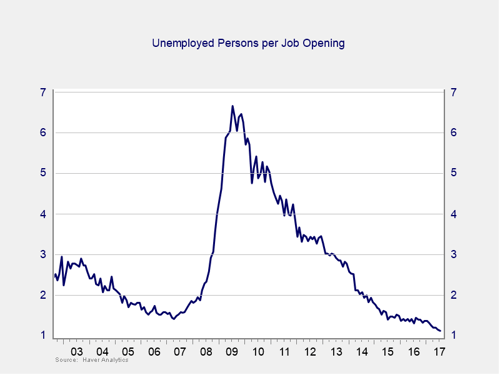 Corporate earnings
There are even more new records, although they tend not to be reported as such. GDP keeps moving to new highs, as do real wages. Most of the major economic indicators continue to improve overall. Arguments over the rate of growth should not obscure the fact that growth is happening.
Because of all this, the most fundamental driver of the stock market—corporate earnings—is also at a new record. After a drop back in 2013 through 2015, operating earnings have rebounded strongly to new highs in the past quarter.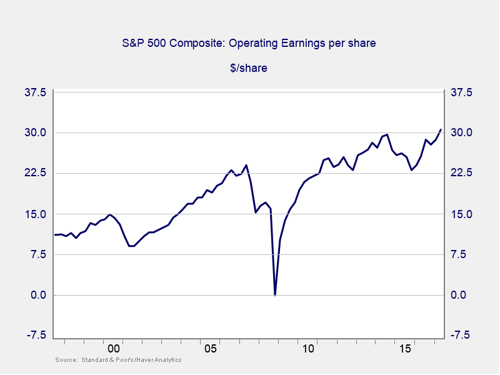 A solid foundation
Given all of these records, it becomes much less of a surprise that the stock market is setting new records as well, despite all of the bad news. Although there are very real concerns out there, the economic fundamentals have been improving and are now at very healthy levels, any way you look at it.
So, while we should celebrate stock market records, let's be sure to look beyond the headline numbers of the stock market indices to understand the other records that got us here. After all, those records represent the very real progress made by millions of people who, in reality, drive the stock market. Without a solid foundation, the stock market can't rise. Right now, the foundation is indeed solid.