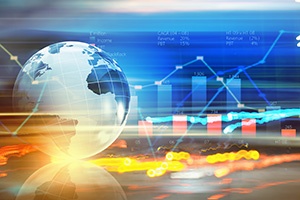 Yesterday, President Trump announced that the U.S. will be imposing tariffs on steel and aluminum imports. This shocked markets here in the U.S. and around the world, driving them back down just as it looked like they were recovering from the downturn last month. What happened? And is this a more serious threat going forward? In a word, yes.
Regular readers know I am not one to overreact—"keep calm and carry on" is my default answer—but this really could be something new and worse than we have seen so far. To be clear, it is certainly not time to panic, as chances are this will end up going away. But it is time to pay close attention. This really could be a big deal.
What's going on?
Let's define what is going on and why it matters. Tariffs are a charge on imports, essentially a tax. If a ton of steel costs $100, for example, the 25-percent tariff proposed yesterday would require the seller to pay $25 to the U.S. government. That would, in effect, mean the seller has to choose between effectively selling the steel for $75, raising the price to $125 to net the same amount, or doing something in between. Practically, the sellers will raise prices. This is the desired outcome, as it will allow producers here in the U.S. to sell their products for higher prices as well. Therefore, these tariffs are good for the steel and aluminum industries.
Why does it matter?
The problem is that they are bad for anyone else that uses that steel or aluminum, such as car manufacturers, builders, the energy industry, or really most of the economy. Their input costs have just gone up substantially. According to a UBS analyst, Ford's costs just went up by $300 million, while GM's went up by $200 million. Other companies will be similarly affected.
Ford and GM (for example) have two choices here. They can raise prices, which will start to push inflation up higher, or they can eat the higher costs and make less money. Either way, this is bad for the stock market, as it plays out across the economy. Both higher inflation and lower profits make stocks worth less—hence, the market reactions around the world.
How will other countries respond?
It could get worse, as these are only the first-order effects. The next shoe to drop will be how other countries respond. If we are lucky, they will take legal action through multilateral bodies such as the World Trade Organization, which will result in negotiations. If we are unlucky, they will start imposing retaliatory tariffs of their own, targeted to cause maximum pain to the U.S. economy. We don't know what those will be. But we can be quite sure they will be designed to hit the U.S. economy as hard as possible, in order to force us to remove the tariffs. This is how trade wars start, so it will be critical to watch those responses.
The next set of effects will be geopolitical. When you look at the actual sources of steel and aluminum imports, Canada is at the top of the list. By angering and damaging our closest neighbor—at the same time as we are trying to renegotiate NAFTA—the possible damage just increases.
What are the potential consequences?
The net effect of the tariffs, then, will be economic damage, higher inflation, and greater geopolitical uncertainty. On the corporate side, it will be lower profits for the vast majority of companies. On the consumer side, it will be higher prices for many goods and, likely, lost jobs in export industries. That is why this issue is worth watching closely.
Time to pay attention
That said, however, there is a real possibility that this is either a trial balloon or a negotiating tactic. The U.S. has tried to impose tariffs before, only to pull back as the costs became clear. Trump's announcement is not the same as actual action. This could all pass away, particularly as the rapid market response shows very clearly the potential costs. It is too early to be overly concerned.
It is, however, time to pay attention. I will be following this closely in coming weeks.