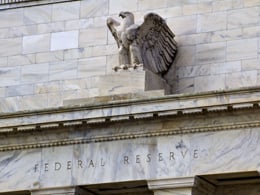 One of the reasons investors fail to achieve their goals is that they have unrealistic expectations. When those expectations aren't met, for whatever reason, they tend to sell.
Consider the well-known tendency to chase performance—that is, to buy a fund or stock that has been doing well. In doing so, the investor believes, he or she can expect future performance like that of the recent past. This leads to the momentum effect, which can drive prices up further, but ultimately may not be sustainable. When investors realize they won't be getting the returns they expect, they sell, leading to downward momentum.
A fairly obvious way to keep our expectations in line with reality is to decide ahead of time what kind of returns we want from our investments. We can then compare that with historical data, and see whether our expectations make any sense. If not, we have to consider whether we're willing to ignore history.
As interest rates bottom out, history may not be a good guide
Let's look at bonds first. If you think about it, there are two ways to make money in bonds: the interest payments, and any capital appreciation if interest rates decline. We've been in a 30-year bull market for bonds, as interest rates have dropped, but we're very close to the bottom. Rates can't go all that much lower from here.
This is a good case of a time when it makes sense to ignore history. From 1998 through 2013 (the past 15 years), the Barclays Capital U.S. Aggregate Bond Index returned between −2.02 percent (in 2013) and 11.63 percent (in 2000), with a simple average of about 5.30 percent. During that time, the 10-year Treasury rate dropped from a high of 6.11 percent in 1999 to 2.90 percent at the end of 2013. With current rates at 2.50 percent, we can't see that kind of drop again. What's more, the only decline since 1999 took place in 2013, as rates moved up.
Aligning expectations with reality
Looking forward, we will make a return of our coupon payments, but depreciation is a real possibility. Unless you believe interest rates will remain low forever, you will, over time, get the coupon rate from your bond investments—currently 2.35 percent for the Barclays Aggregate Bond Index—if you're lucky.
If you expect a return higher than that, or the equivalent yield for what you're invested in, you have to explain where it will come from. In this case, it's not reasonable to look at the historical returns as a guide, as conditions have changed for the worse.
Stocks aren't quite as simple, but we do have multiple examples of bull and bear markets that we can use to set some guidelines. We'll take a look at those tomorrow.
All indices are unmanaged, and investors cannot invest directly in an index. Unlike investments, indices do not incur management fees, charges, or expenses. Past performance does not guarantee future results. Bonds contain elements of both interest rate risk and credit risk. The purchase of bonds is subject to availability and market conditions. There is an inverse relationship between the price of bonds and the yield: when price goes up, yield goes down, and vice versa. Market risk is a consideration if sold or redeemed prior to maturity. Some bonds have call features that may affect income.