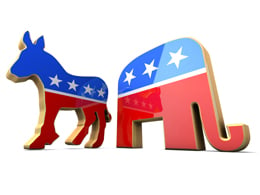 As expected, last night's presidential debate was a slugfest. With both Trump and Clinton swinging freely at each other, and the moderator struggling to maintain control, it was interesting to see how the candidates chose to spend their time in front of the nation. We learned something, even if it wasn't what we might have wanted to learn.
Here's what I took away from the debate:
No free traders here. The first part of the debate was in many ways Trump's strongest, as he laid into Mrs. Clinton for her support of free trade, notably NAFTA and the TTIP deal. She punted on both, leaving the presidential stage with no one willing to defend free trade. Protectionism has been on the rise in recent years, but the U.S. has done its best to keep markets open. Expect that to change over the next administration, regardless of who gets elected.
Neither candidate could knock the other out. Both candidates did some damage—Trump on trade and e-mails, Clinton on tax returns and racism. In terms of their major goals, Trump stuck to his talking points of economic and global decay, while Clinton hammered home her policy goals to appeal to both her core voters and address areas where she may be weak. You could spin either one as the winner (and people are).
Fact-checking is now in vogue. Although the moderator occasionally called the candidates out on the facts, multiple websites were vetting their statements in real time. The era of post-truth politics may not be here quite yet, at least in the media. Expect more focus on the candidates' claims for the rest of the campaign.
Markets reacted positively. This has been interpreted as a signal that Clinton won, which seems reasonable, particularly given the rise in the Mexican peso. But, just as with Brexit, the money markets may be a poor guide to what actual voters are thinking. How many currency traders vote in Ohio?
The most important takeaway, however, is what did not happen: a detailed discussion of policy. Among the topics that got only passing mention, or none at all, were Syria, Afghanistan, immigration, the deficit, and entitlement programs. On almost all of the serious issues the country faces, there was little or no commentary from the candidates.
What you see is likely what you'll get
On the whole, the consensus seems to be that Clinton won on points. I would break that down a bit: Trump did best in the first half hour, with the advantage shifting toward Clinton for the rest of the night. Market reaction seems to bear that out, with the caveat noted above. The real surprise, to me at least, was how little we actually learned about either candidate. Both did more or less what was expected. Both acted as they have in the past.
And that may be the final takeaway: that what we've seen so far in the campaign really is what we get. From an economic perspective, there are two major differences between the candidates—namely, trade and taxes. Clinton may not be defending free trade, but neither is she likely to tear up existing agreements. Trump says he will, and I believe him. Clinton says she will raise taxes, while Trump says he will cut them. I believe both of them.
Both candidates have their flaws, but as we saw last night, they are what they are, and it seems we can take them at their word. After the debate, it's clear that we should vote based on whether we agree with what the candidates say they will do, not on the hope they will do something different.