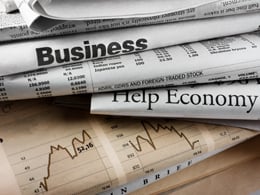 The news is in: Black Friday was a bust. Sales over the Thanksgiving weekend were down 11 percent, with 6 million fewer shoppers this year than last.Sounds like a pretty bleak Christmas, no?
In fact, Black Friday—so named because it's when retailers get as much as 40 percent of their annual sales, moving from the red into the black—may not be the best bellwether of the holiday shopping season. While lackluster sales aren't necessarily a good sign, they also don't spell doom for holiday spending.
So why the slump?
Lower Black Friday sales appear to be a result of changes in the way shoppers buy things, as well as changes in the way retailers operate. Specifically:
More people are shopping online.
Retailers have been running sales ahead of Thanksgiving to lure shoppers into stores earlier.
In support of the first point, just take a look at the sales numbers for Cyber Monday, when office workers everywhere proceed to ignore their jobs and go shopping on the web. Sales were up more than 8 percent, per an IBM figure, and up more than 15 percent according to consulting firm ChannelAdvisor, for an average of just over 11 percent—about the same as the drop in in-store sales on Black Friday. The increase in online shopping must have accounted for a good part of the Black Friday slump.
The rest is probably due, at least in part, to stores' decision to run sales before the start of the traditional holiday shopping season. Walmart, for example, discounted twice as many items as in past years and aggressively promoted deals ahead of the holiday. As a result, the company reported record online sales for Thanksgiving itself, which certainly ate into the following weekend's results.
Given these trends, it seems that Black Friday is no longer a very reliable indicator of how the holiday shopping season will pan out.
Are there any better signals?
Capital Economics notes two:
Hiring in the retail industry in October, as stores gear up for the season. Retailers have a real incentive to get it right, and they've done a good job historically. This October's hiring suggests holiday spending growth of around 6 percent, the best in nine years.
The Gallup holiday spending survey, which shows what actual shoppers are planning to shell out. This year, they expect to spend about 10 percent more, which should also translate to about 6-percent growth in retail sales—again, the best in nine years.
Meanwhile, the National Retail Federation expects slightly lower sales growth of just over 4 percent, which is still relatively healthy.
Too early to rule out strong sales growth
Overall, given advances in employment growth and wage income—not to mention the reduction in oil and gas prices—retail sales look to be strong this holiday season, which would benefit the economy as a whole. If sales don't end up showing substantial growth from last year, it could be a sign that the economy is weaker than it seems. That's something to watch out for, but not something to worry about yet.