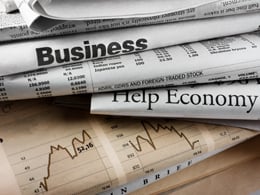 I spent this morning reviewing today's economic news in preparation for a TV appearance. I didn't have much of a chance to focus on it in the interview, but fortunately we can discuss it here. The news wasn't just good, but good in an interesting way.
Specifically, the key news this morning included a report on durable goods, which is basically business equipment, as well as data on consumer confidence and the sales and prices of new homes. These are all good indicators to watch, and the expectation was that they would disappoint once again. The narrative of a slow first quarter has taken hold, and most economists didn't have high hopes.
I have to admit, my expectations were modest as well, despite my belief that the recovery continues. I was very pleasantly surprised, though, at how positive the news was.
Durable goods: which number to watch?
Just as with inflation numbers, there's a headline figure and a core figure for durable goods orders. The headline includes everything, and the core excludes big items that bounce around a lot. In the case of inflation, that's food and energy prices; with durable goods, it's transportation—namely, cars, aircraft, and defense. Defense spending typically doesn't mirror the cycles of the economy, but the big wild card is aircraft orders. As important as it may be, the Boeing sales team doesn't represent the economy as a whole.
You can see this by comparing durable goods orders as a whole, which were down 0.5 percent, in line with expectations, with durable goods orders excluding transportation, which were up 0.5 percent. The difference is largely due to a drop in aircraft orders, which dropped 4 percent after a 40-percent gain the previous month. Clearly, with that kind of swing, the number that excludes transportation should be a more reliable reflection of the economy.
Signs of a developing trend
As I've said before, a single month of data is not a good indicator. But we now have two consecutive months of increases in core durables ex-transportation, suggesting that the trend of declines may be broken. Even more indicative, the poor March figures are now being revised up significantly, from negative results to positive.
Looking at business investment alone, we get similar results. Capital goods excluding defense spending and aircraft grew even more, at 1 percent, and the previous month was also revised upward by a full percentage point. Business investment, one of the key elements of the economy, is coming back.
And the pattern extends beyond business spending into many areas of the economy. Housing prices and consumer confidence continue to rise and beat expectations, as do new home sales.
Looking forward, the question is whether the better trend will continue. With the West Coast ports running again, the weather improving, and companies adjusting to the stronger dollar and lower oil prices, I suspect we'll continue to see faster growth. The expectations, however, may take a bit longer to change.