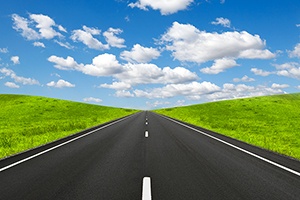 Here on the blog, Brad often writes about gratitude. The things he gives thanks for range from the seemingly trivial (watching his cats wrestle) to the profound (health, family, and happiness). Often, he mentions that he jots down three things for which he's grateful every day. In reading these posts, what strikes the strongest chord with me is seeing things through the lens of "getting to" rather than "having to." It has very much influenced how I try to navigate the intricacies of modern life and the stresses that come along with it. I get to go to work and do something I love. My wife suggested there's another wrinkle to it and added "celebrate." As in, I get to go to the gym and celebrate with 30 minutes on the treadmill. Sounds trite, but it helps.
Rosie's Place: Helping those in need
This month, Commonwealth's Investment Management and Research team celebrated our holiday party by serving lunch to 100 guests at Rosie's Place in the South End in Boston. Founded in 1974, Rosie's Place was the first women's shelter in the country, and it serves more than 100,000 meals every year to poor and homeless women and their children. It does not accept any city, state, or federal funding, operating solely on the contributions of individuals, foundations, and, in our case, corporations. In short, it's a vital backstop for the people who need it. Massachusetts is an affluent state, typically ranking in the top 10 for median household income and wealth. In reality, 1 in 10 residents of the commonwealth live in poverty, including 15 percent of all Massachusetts children.
For four hours, we chopped vegetables, made soup, washed dishes, and wiped down tables—the seemingly banal tasks required for food service. But we got to be there. For some of the guests, it wasn't a choice. I've volunteered there several times, and it's always a moving and humbling experience. Many of those we served looked like you or me. And as 40 percent of Americans are just one missed paycheck away from poverty, with a different bounce of the ball, it could be any one of us.
But the mission of Rosie's isn't to make fortunate people reflect on how lucky we are. Instead, it's to help those who need it. I'm grateful to Rosie's Place for providing support for a broad swath of people who just need a hand. I'm grateful that our colleague, Anu Gaggar, suggested we volunteer there for our holiday party. And I'm grateful that I work in a place that encourages giving back. So, thank you, Rosie's Place, Anu, and Commonwealth.
There's no cap on kindness
Rosie's Place serves as a powerful reminder that everyone is going through something and that there's no cap on kindness or empathy. On Monday, we'll return to our usual talk about the latest economic and market news with the weekly update. But for today, I'd like to leave you with the closing lines of Philip Larkin's melancholic poem, "The Mower":
We should be careful
Of each other, we should be kind
While there is still time.