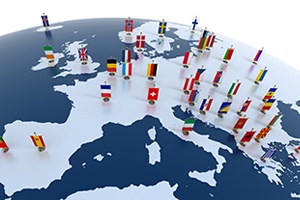 Trade and tariffs just made the front pages in a big way with the confrontation between the U.S. and other countries at the recent G7 summit. Terms like trade war are being thrown around, and Canada (Canada!) is openly threatening retaliation. So, now seems a good time to take a look at what is really happening—and what it might mean for us and our investments.
Let's start with the background
The thing that started all of this was disputes over tariffs. A tariff is a charge on goods imported into a country by the government of that country. In other words, it is a tax. As an example, if a Chinese steel company wanted to sell steel in the U.S. and there was a tariff, then that seller would have to pay the U.S. government the tax on everything it sold here.
The idea behind a tariff is that it makes goods manufactured outside the U.S. more expensive than goods made here. This gives an advantage to domestic companies and actually sounds pretty good, until you consider the consequences.
What are the consequences?
Tariffs will raise costs for everyone. The whole point of a tariff is to make the domestic producer the cheapest option. But if a tariff is necessary, that means the real cheapest option (i.e., the foreign producer) is no longer available. So, prices go up—in this case, for everyone who uses steel.
The effect is that everyone else ends up paying higher prices so that the U.S. steel company can make more money. The justification is that the steel company can then keep its jobs in place, rather than losing them abroad. In extreme cases, that may keep the domestic producer in business, saving those jobs. In less extreme cases, a tariff can allow a company to actually raise prices above what they already were. But in either case, the tariff—by design—taxes everyone else in order to allow an industry to make more money.
While one country may see a need for a tariff, other countries (by design) will be hurt and will respond. Again, this is just what we are seeing right now. In addition to the knock-on effects of the initial tariff (steel in the above example), the damage will include the retaliatory tariffs instituted by other countries. In extremes, with tariffs, counter-tariffs, counter-counter-tariffs, and so on, trade can break down altogether. This would devastate the world and the U.S. economy.
You might sense from this analysis that, as an economist, I am against tariffs. You would be right! While the intentions are good, over and over again, we have seen that the costs overwhelm the benefits. This has been the major consequence in economics and politics since the Great Depression, which was caused in no small part by the U.S. tariff act known as the Smoot-Hawley Act. We know tariffs definitely cause economic damage. We have also seen that they can cause trade wars and that trade wars can do enormous damage.
Here's the real question
Given that this view has been the consensus of economists and politicians for decades, what has changed to bring tariffs back into the limelight? The answer is that, in fact, the Trump administration is on to something. Overall, the world economy and the U.S. economy have benefited enormously from trade. But there have also been significant costs—especially here in the U.S. We have lost millions of jobs and entire industries to factories abroad. To a laid-off worker, the costs of tariffs might indeed seem a fair trade for the benefit of once again having a good job. In that sense, the administration has a real point, and it is one that has widespread political appeal.
The other area that Trump gets right is that, in many cases, the U.S. is indeed at a disadvantage when it comes to the terms of trade. On a deal-by-deal basis, the U.S. is more open to trade than other countries and often gets inferior terms to what it could. You can make a good case that, for decades, the U.S. has been leaving money on the table. Indeed, it is just the case that Trump is making.
How can this be?
If this is true, then all presidents and Congresses (of both parties) have been idiots for the past several decades. Isn't Trump right to try to tear up the existing system?
Yes, it is true, and the costs are real. But what also has to be considered is that there are benefits from the current system as well, and those benefits exceed the costs. There are real problems with the current system. Before tearing it up, however, we need to understand those benefits and what might happen if we eliminate the existing structure.
Stay tuned!
That is what we will discuss tomorrow: why the existing trade structure has made sense—and still makes sense—and why trying to tear it down will end up doing more harm than good. We will then conclude in part 3 with what changes do need to be made, plus some thoughts on how they could be made.