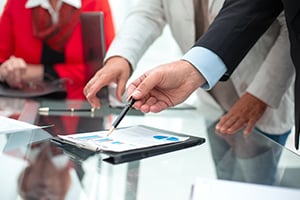 "If you don't know where you're going, any road will take you there."—Oft-cited paraphrase of exchange between the Cheshire Cat and Alice in Lewis Carroll's classic children's tale, Alice's Adventures in Wonderland
October is National Financial Planning Month, and we would be amiss if we didn't acknowledge and celebrate it. This year, I feel this topic is especially important because we're coming out of what I hope is a once-in-a-lifetime experience. The pandemic gave many of us time to pause and reflect, and we can use what we learned to reset old habits and start better new ones. I hope we'll pledge to focus more than ever on our physical, social, and mental health. I also hope we'll focus on our financial health—and that of our clients—because when this box is checked, we're better able to turn our attention to physical, social, and mental health, the critical aspects of our well-being. Let's start on this path today by considering the meaning and importance of National Financial Planning Month.
What Is Financial Planning?
As a refresher, financial planning, which provides a road map for our monetary lives, typically encompasses budgeting, investing, tax management, education planning, retirement planning, estates and wills, and more. Some say financial planning should start with your first paycheck. But I believe the groundwork should be laid before that event—for example, when a child first receives an allowance or earns money for chores. At this time, the child can plan to save their money for a future purchase, or to spend their money, and that is financial planning.
When individuals have a plan, they know the goals they're trying to achieve. When they can see the path to achieve those goals, they'll be able to think of the possible roadblocks and how to navigate them. With the building blocks in place, planners can do their best to stay on the path toward achieving their goals. As expressed by the adage shared above, we can get somewhere without a plan, but that place may not be where we would like to be, or where we expect to end up later in life.
Why Have a Plan?
Here are some compelling reasons to invoke when discussing the need for a financial plan:
Save for the rainy day. Last year was a wake-up call for all of us, as the monetary ramifications of the pandemic highlighted how many of us have built our financial lives on a delicate house of cards. Emergencies are hard to deal with, and even more so when we have no savings to help us ride them out. According to a report by the Stanford Center on Longevity and the Global Financial Literacy Excellence Center, in January 2020, about 27 percent of U.S. families had difficulty finding $2,000 for an unplanned expense within a month, and 33 percent of Americans found making ends meet a challenge even before the pandemic began. Fortunately, in response to the pandemic, the government stepped in quickly with colossal monetary relief and support programs. But a safety net like that is not something we can or should count on during every crisis. When it comes to building an emergency fund, it's important to start now—before the next financial catastrophe strikes.
Save for those golden years. Many of us work hard for several decades with the hope that we'll be able to achieve financial freedom and do what we like in our golden years. Unfortunately, however, some people don't have a financial plan and don't put their money to work early enough. Thus, they end up not having enough resources to retire comfortably on. Between not having enough retirement savings and the evolution of retirement incentives in the U.S. (such as when social security benefits kick in and minimum distributions from retirement plans need to be taken), many Americans are continuing to work for longer. This trend has been reflected by the steady rise in labor force participation of older workers up until the pandemic began. Without debating the appropriate age to retire—for an individual and the economy—it's clear that having a financial plan helps make the ability to retire a lifestyle choice versus a monetary obligation.
The Cost of Education
With the skyrocketing costs of college education and burgeoning burden of student debt, planning for a child's college education has never been more critical. Unfortunately, many Americans don't have the money to put aside for their children's education or don't have a plan that directs them to do so. Only about half of parents in the U.S. are currently saving for their children's college education, and far fewer are saving enough. To put it plainly, national student debt now accounts for nearly 79 percent of U.S. GDP. If that statistic isn't sobering enough, recent data shows that younger generations with similar education levels are earning less than their predecessors. Ultimately, this indicates that, without a plan for college saving, future generations could have an arduous journey to achieving financial stability and success.
Help with Financial Planning
Emergencies, retirement, and education are just three examples highlighting the need for financial planning. We cannot overemphasize the case for financial planning enough. That said, the good news is that individuals and families don't have to go down this path alone. There is a whole industry and many trained professionals dedicated to guiding people throughout this journey. Of course, as with other big decisions, such as purchasing a car or a house, due diligence on the part of consumers is needed to find the right financial advisor or advisory program.
Given the critical need for planning, it's unwise to wait to begin. Saving often and saving early comes with many compounding benefits. Now is a good time to pay tribute to National Financial Planning Month by highlighting the need for a financial plan or let others know they can reach out to a professional for assistance. We can all look to the lessons learned from the Cheshire Cat and Alice for a reason to get started.