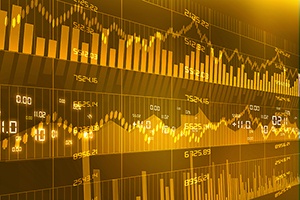 Brad here. I don't normally write too much about stock market inside baseball, but something is about to happen that will undoubtedly get a lot of press—and raise a lot of questions. Specifically, the companies that operate the S&P 500 are changing how they classify companies within the index. While these changes won't actually alter anything about the index as a whole, or the companies within it, they could affect your investments. Because of that, I asked Brian McCormick from our Investment Research department to take a deep dive on what these changes are and what they might mean to you. Take it away, Brian!
What's happening with the S&P?
On September 28, 2018, the MSCI and S&P Dow Jones indices will be making some rather large and important changes to the structure of the Global Industry Classification Standard (GICS), which controls how companies are sorted into sectors within stock indices. These will be the most impactful changes to the sector landscape in GICS history. So, it is important for investors to know what is taking place and how it may affect their portfolios.
Here's the short version of what's happening with the S&P: several major components of the technology and consumer discretionary sectors will be moving into the telecommunications sector, with the telecom sector being renamed communication services. More than 10 percent of the entire S&P 500 market cap will be reclassified, with 24 percent of the consumer discretionary sector and 21 percent of the technology sector being affected. Key names within these sectors (e.g., Facebook, Alphabet, Twitter, Netflix, and Walt Disney) will be moving to the communication services sector (see Figure 1).
Figure 1. Securities Within the S&P 500 That Are Expected to Be Reclassified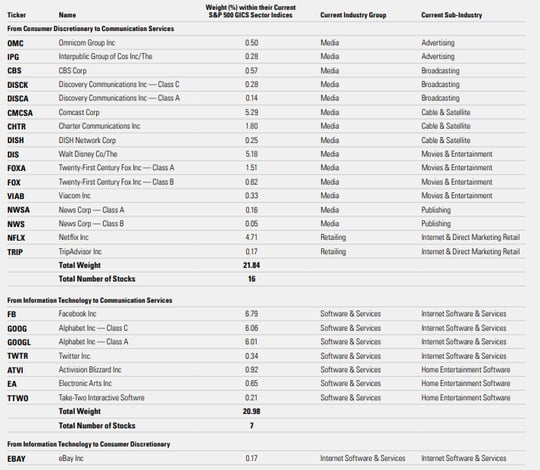 Source: SSgA, S&P Dow Jones Indices, as of July 31, 2018
To put things in perspective, the GICS made a change in 2016 that lifted real estate from the financials sector to create its own sector. But the upcoming change will be the first one to the technology sector since 1999. Considering the amount of technological advancement, particularly Internet services and Internet media, this change may be long overdue: the technology sector has become extremely large at more than 26 percent of the S&P 500. This change will significantly reduce this size. It will also create sectors that make a little more sense given how telecom, Internet, and media companies have become more and more integrated over the past several years.
The resulting index breakdown within the S&P 500 is illustrated in Figure 2.
Figure 2. Projected S&P 500 Index Sector Weights


Source: SSgA, Bloomberg Financial, as of July 31, 2018

As you can see, the tech sector will be reduced to a little more than 20 percent of the index, with consumer discretionary reduced to just under 10 percent. The existing telecom sector will be wrapped in with the new constituents coming over from technology and consumer discretionary to create the communication services sector, which will represent more than 10 percent of the index.
How will this affect investors?
For investors, the biggest impact will be for those who are invested in sector-focused funds or ETFs. But investors in S&P 500 funds will see very little impact, as the weights within the index are not being changed, only how they are being classified from a sector standpoint.
State Street Global Advisors. The world's largest provider of sector ETFs, State Street Global Advisors, created the Communication Services Select Sector SPDR ETF (XLC) back in June in preparation for this change, and it already includes the new constituents. At the close of business on September 21, State Street will be rebalancing the Technology Select Sector SPDR ETF (XLK) and the Consumer Discretionary Select Sector SPDR (XLY) to reflect the underlying index changes. State Street has indicated that it does not expect the rebalance to result in any capital gains distributions. In the unlikely case that the rebalance does result in the need to distribute capital gains, estimates will be provided to shareholders in early November.
Sector investors holding XLK and XLY who want to maintain a similar exposure would need to sell approximately 20 percent to 25 percent of both XLK and XLY and purchase the communication services sector. This strategy is based on the number of stocks that are moving from each sector and the weights currently represented in each ETF. Keep in mind that this includes the three telecom stocks that are currently included in XLK (i.e., AT&T, Verizon, and Century Link) (Figure 3).
Figure 3. Weightings of Affected Stocks in Index, Sector, and ETFs

No. of Stocks in Sector

Weight in S&P 500

% of Sector

% of XLK/XLY

No. of Stocks in XLK/XLY

Information technology

7

5.29%

20.1%

25.6%

10

Consumer discretionary

16

2.87%

22.4%

22.4%

16

Telecommunication services

3

1.97%

100%

–

–
Vanguard. While State Street owns the two largest ETFs in technology and consumer discretionary (XLK has $21 billion in assets, while XLY has more than $13 billion), up to 30 ETFs in total could be affected by the changes, including large-sector ETFs from Vanguard.

In May, Vanguard started transitioning its technology and consumer discretionary funds (VGT and VCR, respectively) to custom transitionary MSCI indices in advance of the GICS changes. This move was done to mitigate capital gains distributions, but it has lost some index constituents during the transition period over the past few months. Vanguard's focus on tax efficiency is great, but the periodic trading to offload index names can result in higher transaction costs. Vanguard's communications ETF (VOX) will simply purchase the new constituents.
How will this affect portfolio managers?
Moving forward, this change could also affect how active managers are allocating their portfolios across these new sectors. Many other mutual fund and ETF managers have mandates that keep them within certain ranges of their benchmark sector weights. As such, some managers may be forced to look more closely at the newly formed communications sector and to consider adding new names or to adjust existing positions. If portfolio managers find themselves overweight in the communications sector, they will have to decide which stocks to sell. This sector is no longer just AT&T, Verizon, and a handful of other names. Portfolio managers will have to decide whether to sell AT&T, Facebook, or Netflix. It will be interesting to watch the names within the new communication services sector as we head into the fourth quarter.
Beta sensitivity
The new sector will also become a more growth-oriented sector compared with the old telecom sector, which was often used as a bond proxy. Investors looking for the safety and yield that the telecom sector once provided will have to look at individual stocks rather than investing in the sector. The new communication services sector will be more sensitive to the equity market but less sensitive to the 10-year Treasury yield (Figure 4).
Figure 4. 36-Month Beta Sensitivity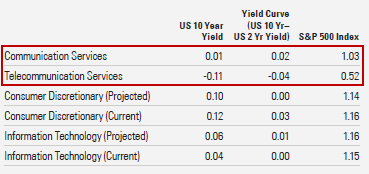 Source: SSgA, FactSet, as of May 31, 2018

The sector will also carry much higher valuations, with the new communication services sector having an approximate forward P/E of 18x compared with just 10x for the old telecommunications sector. Valuations in the consumer discretionary sector are expected to increase slightly because of this change, while the new technology sector is expected to have slightly lower valuations.
Bottom line
In summary, investors in S&P 500-based products or actively managed mutual funds will experience very little impact because of this change, as constituents' weights will remain the same. If using sector-focused funds or ETFs for exposure to technology, consumer discretionary, or telecom, the effect will be meaningful, and adjustments will need to be made in order to maintain exposure to the companies that once composed these sectors.