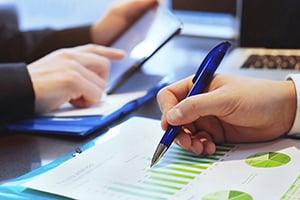 In the face of a public health crisis, the decision to send remote-capable workers home from the office seemed an obvious one. But as vaccines became widely available and the rate of Covid-19 infection started to decline, harder questions arose. When and how do employees return to the office? To be sure, defining the post-pandemic "new normal" has been tricky. Although there is no one-size-fits-all solution, clear trends are emerging—which will have definite implications for the use of office property.
Surveying the Office Space Landscape
Kastle Systems publishes weekly updates on the use of 2,600 office buildings equipped with its access control systems across 10 major metro areas of the U.S. As of September 28, 2022, average use was about 47.2 percent of 2019 levels within its data sample. Further, the average monthly change in office use has been just +0.87 percent since April 2022. At this rate, offices won't reach 2019 use levels until October 2027.
The Kastle Systems data is supported by a June 2022 Gallup survey of 8,090 remote-capable U.S. employees. Just 22 percent of the respondents were in the office full-time compared to 60 percent of those workers in 2019 (see chart below). Nearly half the workers were split between home and the office, while 29 percent were fully remote.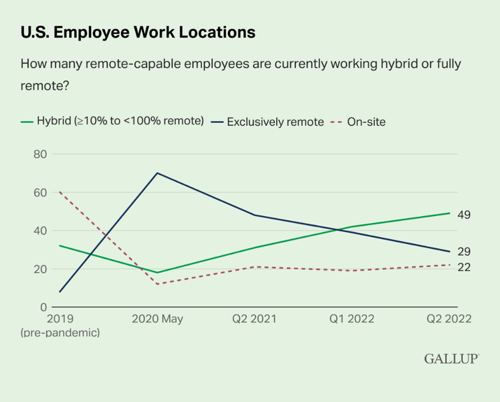 What's keeping people out of the office? It doesn't appear to be public health concerns. The NBA reported 95.1 percent of pre-pandemic stadium attendance in June 2022, while OpenTable booked 89.6 percent of its pre-pandemic restaurant reservations, and the TSA observed 87.6 percent of pre-pandemic checkpoint traffic for the same time period.
Further, employers can't demand that their employees return because many are willing to quit. In fact, nearly 60 percent of full-time remote Gallup survey respondents said they were "extremely likely to change companies" if their employer didn't offer them remote work in the future. Of the hybrid-model employees in the survey, 29 percent said the same. Those numbers have increased from 12 months earlier, when 37 percent and 19 percent of those employees, respectively, said they were likely to change companies.
This resilience of demand for remote work arrangements may be explained by a term known in behavioral finance as the endowment effect. It refers to an emotional bias in which people value what they own more than its market value. It's based on the concept that most people are loss averse by nature. In other words, we don't like to lose what we already have. The bottom line is that a competitive labor market and a growing sentiment among workers to have the opportunity to work remotely have pressured many employers to establish a flexible work policy now and into the future. In turn, many real estate investors are also betting on a long-term reduction in office use.
The Future of Office Property
The commercial real estate services and investment firm CBRE recently published the Spring 2022 Occupier Sentiment Survey covering the return-to-office strategies being employed by 185 corporate real estate executives with U.S. office portfolios. Seventy-three percent of respondents said they would hold to a hybrid workplace policy looking ahead, and just 19 percent said they would be in the office full-time. This survey covers only a small slice of U.S. employers, but it lines up pretty closely with the expectations of employees in the broader Gallup survey, the majority of whom believe they'll be working in a hybrid environment moving forward.
As of October 7, 2022, stocks of NYSE-listed office property real estate companies were, on average, trading at a 41.1 percent discount to the consensus-estimated net asset value of their underlying portfolios. In other words, the stocks of these companies were priced 41.1 percent lower than the average value that real estate analysts assigned to their assets and liabilities based on current commercial real estate market conditions. That discount level reflects strong pessimism from exchange-listed stock investors about the future demand for office property. It means a commercial real estate investor might be willing to buy properties directly for 167 percent of what investors are willing to pay for stocks of a company that owns the same properties.
There are other risk factors influencing investors' valuation of office property stocks as well, including how higher interest rates could reduce the amount of money a leveraged real estate buyer is willing to pay for the properties, how high inflation could eat into the real value of the fixed rent payments on a long-term lease, and how higher unemployment brought on by an economic recession could decrease the demand for office space.
To Be Continued . . .
Of course, an economic stress test could change the equation. In today's competitive labor market, workers have more leverage to demand employer concessions (e.g., higher wages and a flexible work policy). But an economic recession could reverse this dynamic. If earnings decline and layoffs ensue, we could see power shift to some executives who, under a challenging business environment, may look to the 40+ hour face-to-face workweek as a solution.
There's also an undeniably human element to sharing space and time with others that modern technology is incapable of rendering. The evidence suggests that most Americans agree with that statement, although remote work flexibility remains in demand.
At this point, this certainly feels like a story with no conclusive ending. But some variation of a hybrid work model looks likely to be at the core of our new normal.