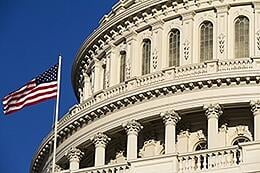 Now that both parties have nailed down their presidential nominees, it's time to take a quick look at politics and how it may affect the economy and markets this year. As usual, we'll focus on the policies that the two candidates have offered and their likely consequences.
Two very different choices
Let's start with Hillary Clinton. Although she is the Democratic nominee, her policies aren't all that different from the Republican perspective of 20 or so years ago. A committed internationalist and (until recently) a committed free-trader, Clinton would likely continue to push for U.S. engagement around the world and expansion of trade flows and agreements. She would continue to support the Affordable Care Act (aka Obamacare) and would likely support higher tax rates on the wealthy, as well as higher levels of federal spending on infrastructure.
Donald Trump and the Republican party he is reshaping would, in large part, do the opposite. Based on what he's said so far, under a Trump administration, the U.S. would withdraw from the world militarily, leaving countries like Japan and South Korea to fend for themselves. We could expect him to attempt to redraw or abrogate existing trade agreements and to cut taxes and spending (the only area where he's really consistent with traditional Republican positions).
From an economic and geopolitical standpoint, these two sets of positions are almost diametrically opposed. The policy differences between the two candidates are greater than I have seen in my lifetime and, looking at history, possibly the greatest since World War II. To a much larger extent than usual, this election offers a very real choice between significantly different national policies.
Status quo or major change?
As investors, this choice should potentially make us nervous. Right now, Clinton is considered the odds-on favorite to win the election. She is a known quantity, and her policies are largely a continuation of the Obama era. Markets are doing well, at least in part, because of that assumption of continuity. What markets really want is for tomorrow to be like today, and a Clinton administration is the clearest path to that.
Where things will become interesting is if Mr. Trump starts to look like the winner. His policies, as stated so far, really would change the world. Retracting the U.S. security umbrella in Asia, for example, could prompt both Japan and South Korea to go nuclear, which has been against U.S. policy since the Cold War. Closer to home, significant changes in NAFTA could disrupt the supply chains of American companies that depend on Mexican factories, possibly raising costs and prices across the U.S. economy.
Time to start paying attention
Now that the presidential race is really gearing up, what will matter most to markets is how much a candidate's policies stand to change the world. The question is whether Trump will continue to espouse ideas that will do just that—and whether it looks like he will have a chance to implement them.
If so, the markets could be in for an exciting ride.