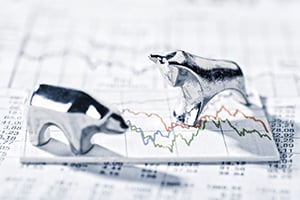 Brad here. Today's post on playing the long game of investing (and golf) comes to you from Mick Comiskey, an investment risk analyst on our Investment Management and Research team. Take it away, Mick.
In many aspects of life, if your expectations exceed the range of possibilities, you will be disappointed. This axiom is devastatingly true when it comes to investing—and infuriatingly true in the game of golf. The extended bull market in the U.S. has led to a widening gap between investor and advisor market expectations. A similar gap exists between the weekend golfer playing friends for lunch and the PGA Tour pro playing for a casual million dollars.
Tiger Woods is having a decent year, shooting an average round of 70. But typical golfers would suffer endlessly if they measured success by beating a mere average round from Woods. Shooting 70 is simply an unrealistic expectation. In a similar vein, investors who anticipate S&P 500-like returns in their 60/40 portfolios will also suffer. This is a simplistic analogy, but it has some merit: a recent Natixis survey showed that investors expect market returns over 10 percent above inflation, while advisors expect 6.7 percent.
Diversify your holdings
Before getting to the course, a golfer must first evaluate what clubs will be needed to play. No PGA Tour pro sets out to play golf with a bag of 14 drivers. Although you can buy 14 different driver varieties, all serve the same purpose.
Like a bag of drivers, portfolios taking identical risks across security types will not yield desired results. A traditional fixed income allocation provides capital preservation in times of equity market stress. A portfolio with excessive credit risk in times of market stress would be like pulling out one of those drivers in a sand trap. Not pretty. Advisors try to avoid this issue by assigning a clear thesis to individual positions and asset class allocations, defining their role in the aggregate portfolio. Positions are then evaluated individually against a peer group and in combination with the broader allocation.
Take appropriate risk
Once out on the course—with a bag full of clubs that each serves a distinct purpose and no intention of trying to beat Tiger Woods—there are choices to be made. It is 250 yards to carry the water on a par 5 and be on the green in 2 strokes. Having hit 250 yards with the 3-wood once before, it might be tempting to try. The risk of being short is losing the ball and a penalty stroke. Plus, the upside to getting over the water is far from certain. Those with a short game like mine know being on the green guarantees nothing! If it is the first hole, you may go for it, thinking you have plenty of time to make up for a potential loss. If it is the last hole and buying lunch is on the line, the potential loss may make the difference.
Viewing risk as the potential for loss and understanding your investment life cycle will help inform the decisions you make. Earlier in the investment life cycle, you know that potential losses may be mitigated in the long run. This knowledge lends to an appropriate appetite for more risk. Later in the investment life cycle, losses have the potential to become permanent—and playing around the water could make more sense.
The heart of investing
Investing, as with golf, does require some level of risk taking. Even on a dry day in Scotland, playing a full round with a putter is not the best idea. You may not lose a ball, but you will certainly be paying for lunch. Taking on risk is at the heart of investing. But with risk comes the potential for loss. Investors need to understand the type and magnitude of the risks in their portfolios to balance potential losses with potential gains.
A golf course can change with the weather, and the market can be just as fickle. Golfers and investors alike need to consistently revisit their plans. But by setting reasonable expectations, understanding your diverse set of holdings, and taking on appropriate risk, golfers and investors may just earn themselves a free lunch.