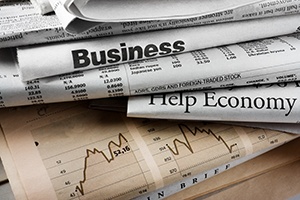 Last week was a busy one on the economic front, and the news was good to very good. Retail sales were in line with expectations, despite some headwinds, while industry and manufacturing did very well in bouncing back from the hurricanes. Plus, the housing industry showed signs of acceleration. Let's take a closer look.
Last week's news
On Wednesday, consumer price data was released. As expected, the headline inflation index rose by 0.1 percent for the month and 2 percent for the year. This result is down from the previous month's 0.5-percent monthly increase—as gasoline prices normalized with refineries reopening after the hurricanes—and from 2.2 percent for the year. Core prices, which exclude energy and food, rose as expected by 0.2 percent for the month, up from 0.1 percent the previous month. The annual change also ticked up from 1.7 percent to 1.8 percent. These numbers are in line with recent data and should not significantly affect the Fed's potential decision to raise rates in December.
Also on Wednesday, retail sales growth did better than anticipated, rising against an expected downtick as the post-hurricane surge subsided. The headline number, including autos, was up by 0.2 percent, better than the expected flat result. Although this result was down from an upwardly revised gain of 1.9 percent (from 1.6 percent), on a decrease in the growth of car sales, it still remained healthy. Core retail sales, which exclude autos, performed slightly worse than expected, up by 0.1 percent instead of 0.2 percent. This report was negatively affected by hurricane-related declines in gas prices and is, therefore, better than it looks. In addition, the prior month was revised up by 0.2 percent, so the final sales level was actually slightly above expectations. Given that the effects of the hurricanes on retail sales are hard to estimate, this month's data suggests continued consumer spending growth, which should be constructive for the economy.
Industrial production, released on Thursday, also did much better than expected. The headline number rose by 0.9 percent, well above the expected 0.5 percent and up from an upwardly revised 0.4 percent (from 0.3 percent) the previous month. Manufacturing did even better, with growth rising from 0.1 percent to 1.3 percent, the highest in six months. Much of the bounce in both came as companies affected by the storms resumed operations. Even with the bounce effect, these are very strong numbers and signal continued growth.
Finally, we got a look at housing. On Thursday, the National Association of Home Builders survey rose from 68 to 70, instead of declining slightly as expected. The rise in confidence was supported by the data on the ground as well: on Friday, housing starts rose from 1.127 million to 1.29 million, well above expectations of 1.19 million. Building permits also rose, beating expectations, suggesting future development is likely to be strong as well. With these numbers, the housing industry is continuing to expand.
What to look forward to
This week will be a relatively slow and short one for economic data, given the Thanksgiving holiday.
On Tuesday, existing home sales are expected to increase from 5.39 million sales in September to 5.42 million in October. Although this would be an improvement, it would be off the pace from a year ago—the first time that's happened in 15 months. Lack of supply remains an issue, and there are signs that affordability also may be a rising problem. But if these numbers come in as expected, it would be a positive economic signal.
On Wednesday, durable goods orders are expected to fare well, with the headline figure showing strong 0.5-percent growth for October. Although this would be down from 2-percent growth in September, September benefited from a spike in aircraft orders, which are extremely volatile. The core figure, which excludes transportation, is expected to grow 0.4 percent for October. This would be down from a 0.7-percent gain in September but still healthy. If the numbers come in as expected, they would indicate continued growth in business investment.
Finally, we'll see the minutes from the last Federal Open Market Committee meeting held November 1, 2017. Analysts will be looking for signs of a December rate hike, which markets are expecting, as well as some guidance on interest rates next year. Markets will pay particular attention to all comments related to inflation and growth.
Have a great week!