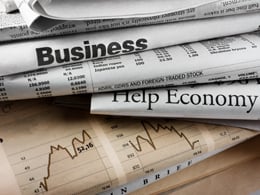 Starting today, I'm introducing a new format for my Monday posts, briefly highlighting key stories from the past week plus items to watch in the week ahead. Of course, I'll continue to provide more detailed analyses of major topics throughout the week, as situations develop.
Please let me know what you think of this new format!
The Housing Market
Housing demand continues to be strong, with pending sales for May up significantly over the prior year. Although the increase was somewhat less than expected, the very strong prior monthly data was also revised upward. Prices continued to increase as well, but at a slower and more sustainable rate. Overall, the news for the housing sector was good, with very healthy demand and price action suggesting a sustainable growth path.
Let's look at the actual numbers:
Pending home sales were up 8.3 percent year-over-year in May, with the prior month's annual increase revised from 12.6 percent to 13.4 percent.
Sales increased 0.9 percent on a monthly basis, and the prior month's data was revised up from a 2.7-percent gain to a 3.4-percent gain.
Housing prices increased across the board. The S&P/Case-Shiller composite index showed a year-on-year increase of 4.91 percent, and the prior month's gain was revised down slightly, to 4.96 percent from 5.04 percent. This level of appreciation, although in excess of general price inflation, is considered to be sustainable and indicates continued health in the housing market.
Labor and Consumer News
Consumer confidence surged higher in June, despite increases in gas prices, largely thanks to continued improvement in the job market. Job growth continued at strong levels, and although wage growth continued to disappoint, unemployment remained on the decline.
Delving into the numbers:
Jobs grew by 223,000 in June, slightly below the expected 233,000, but still at a healthy level. T

he number of jobs created in the past 12 months exceeds the number created at any point in the 2000s.

Unemployment declined to 5.3 percent from 5.5 percent, and the underemployment rate dropped even further, to 10.5 percent from 10.8 percent. Both are at their lowest levels since mid-2008.

Monthly wages were flat, however, and the annual increase dropped from 2.3 percent to 2 percent. Wage growth remains the major area of worry, and this month's report did nothing to assuage that concern. Although many expect a declining unemployment rate to boost wage growth, the data shows that is not happening yet.
Greece
The big story over the weekend, of course, was the Greek referendum. Greece voted not to accept further austerity, but what happens next is still unclear. The underlying problems—that Greece cannot pay its debts nor afford its current spending—remain. Germany and other creditor countries are sending mixed signals on what kind of offer (if any) they will make to the Greeks. That offer will determine how bad the Greek economy, and potentially the economy of Europe as a whole, will get hurt.
There's little else to say at this point, but markets are selling off in reaction to the uncertainty. As with last week, the sell-off looks to be measured and rational—nothing to worry too much about at this point.
China
With the world's eyes on Greece, China's government acted strongly this weekend to support its stock market. This could potentially be a more serious issue than the Greek situation, but it has attracted much less attention. After a reduction in rates and reserve requirements (a combination last seen in 2008) didn't support the markets, the Chinese government directed the central bank to act to make loans available.
This is a story in the early stages, but it's one to watch closely. We'll look at it in detail tomorrow.
The Week Ahead
The major event here in the U.S. will be the release of the minutes from the Federal Reserve's June meeting. The markets will be looking for signs of what the Fed needs to start raising rates. Given the improving data that has been released since the meeting, though, and Janet Yellen's pending congressional testimony, the minutes should have relatively little impact.
We'll continue to watch what happens in Greece and Europe, as well as in China. As I've said before, these events will certainly impact us here in the U.S., but fortunately, we're well positioned to ride out any turbulence. It should be an interesting week.