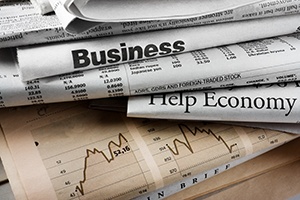 Although the government shutdown has now ended, several economic reports from previous weeks have not yet been released. It is still undetermined when they will be made available, although the releases have started. As such, the week ahead will be busy, with the regularly scheduled reports joined by some catch-up data.
Last week's news
On Tuesday, the Institute for Supply Management Nonmanufacturing index pulled back slightly more than expected, from a strong 58 to 57.6. This is a diffusion index, where values above 50 indicate expansion and below 50 indicate contraction. So, this remains a healthy figure despite the small pullback and suggests that the service sector will continue to expand.
On Wednesday, the international trade report came in significantly better than expected. The trade deficit went from $55.5 billion to $49.3 billion, well below the expected $54 billion. This report is unusual, as it reflects delayed data from November due to the shutdown. That said, the improvement reflects weakness in imports rather than strength in exports. Although trade may make a small positive contribution to growth in the fourth quarter, the report may be more a sign of weakness than strength.
What to look forward to
On Wednesday, the consumer price reports will be released. The headline index, which includes energy and food, is expected to rise by 0.1 percent for January, up from a 0.1-percent decline in December. This would take the annual rate down from 1.9 percent to 1.5 percent on base effects. A drop in the price of gasoline and natural gas is the primary factor in the significant annual decline. The core index, which excludes food and energy, should hold steady at a 0.2-percent gain for January, the same as December. Here, the annual figure should pull back slightly from 2.2 percent to 2.1 percent. If the numbers come in as expected, inflation will remain solidly under control, which will likely keep the Fed patient on interest rates.
On Thursday, the producer price reports are also expected to show moderating inflation. The headline index should rise from a 0.2-percent decline in December to a 0.1-percent increase in January, but the annual rate will likely decline from 2.5 percent to 2.3 percent on base effects. Core prices are also expected to rise on a monthly basis, from a 0.1-percent decline in December to a 0.2-percent gain in January. The annual figure will likely drop here as well, however, from 2.7 percent to 2.5 percent.
The retail sales report, a catch-up report, will be released on Thursday. The headline index will likely pull back slightly, from a 0.2-percent gain in November to a 0.1-percent gain in December. The core index, which excludes autos, is expected to pull back a bit more, from a 0.2-percent gain in November to flat in December. Much of this is due to lower gasoline prices, but there are also signs that underlying spending growth may be slowing, and there is some downside risk to these numbers.
On Friday, the industrial production report is also expected to pull back slightly. Growth of 0.3 percent in December will likely drop to 0.1 percent in January, largely on reduced manufacturing output. Manufacturing is expected to decline from an unanticipated surge of 1.1-percent growth in December to 0.2 percent in January on a decline in employee hours. There may be some downside risk to both these numbers on slowing global demand.
Finally, also on Friday, the initial release of the University of Michigan consumer confidence index should rebound a bit, from 91.2 in January to 94 in February. The government shutdown was responsible for much of the recent decline, reportedly, so its end should help the index bounce back. Lower gas prices and the stock market recovery should also help.
Have a great week!