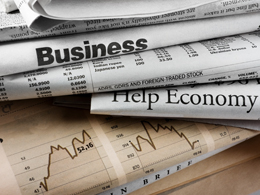 Yet again, the economy surprised us with good news last week. U.S. consumers went shopping, driving retail sales numbers higher. At the same time, both industrial production and manufacturing beat expectations and moved back to growth. Along with continued slow growth in inflation, this suggests that the economy continues to accelerate.
A look at last week's data
Consumer prices increase. As expected, we saw a steady climb in consumer prices, with headline inflation up by 0.2 percent for the month and 1 percent for the year. The headline number continues to be low, as gasoline price declines from 2015 remain in the annual data.
The core inflation number, which excludes food and energy, also performed as expected, with a 0.2-percent increase on the month but growing 2.3 percent on the year. The difference reflects the drop in gas prices over the past year; as that rolls out of the data, we should see the two numbers converge, which should start to increase pressure on the Federal Reserve to raise interest rates.
Retail sales beat expectations substantially. Retail sales numbers were very strong, increasing by 0.6 percent, well above the expected 0.1-percent gain for the headline figure and up from the already strong figure of 0.5 percent for May. The 0.7-percent increase for core retail sales, which excludes gasoline and autos, was even stronger, up from the May number of 0.2 percent (as revised down slightly) and well above expectations of a 0.3-percent increase. This strength suggests that consumers continue to be willing and able to drive the economy through shopping, and that as demand continues to increase, price pressures will likely continue to intensify.
Industrial production shows significant improvement. Also beating expectations, industrial production moved from a decline of 0.4 percent in the previous month (revised up slightly to 0.3 percent) to a gain of 0.6 percent, bolstered by a strong rebound in manufacturing.
Manufacturing moved from a decline of 0.4 percent to a gain of 0.4 percent, largely on a recovery in motor vehicle production, which had dropped as a result of supply chain problems associated with the Japanese earthquake. The recovery of industry and manufacturing to positive growth is one more signal that this sector is stabilizing.
The week ahead
This week is largely about housing. Here are three reports to watch:
The National Association of Home Builders (NAHB) survey, released this morning, came in slightly below expectations at 59, down from 60 in June, but remains at a healthy level.
Housing starts will be released on Tuesday and are expected to show a small increase, from 1.164 million to 1.17 million, based on stable levels of building permits.
Finally, scheduled for release on Wednesday, sales of existing homes are expected to drop slightly, from 5.53 million down to 5.50 million, after healthy gains in April and May. Such a decrease probably would be due more to supply constraints than a decrease in demand.
Have a great week!