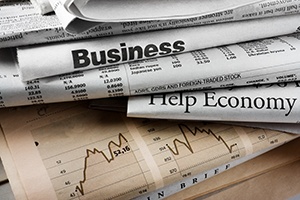 Last week was a relatively slow one, but it still gave us a look at the economy as a whole. The data was surprisingly strong, especially in light of the hurricanes' impact, and came in better than expected across the board. Despite some concerns about growth, this news was quite good and suggests some of those concerns may not play out.
Last week's data
On Wednesday, durable goods orders gave us a look at how business investment is doing. The headline number was very strong. It was up by 2.2 percent in September, against an expected 1-percent increase and from a 2-percent gain in August. The size of the gain was largely due to commercial aircraft orders, which are extremely volatile and therefore can't be taken at face value as an indicator for the economy as a whole. But the core index, which excludes transportation and is a better economic indicator, also did extremely well. Here, we saw growth of 0.7 percent for September, beating expectations of 0.5-percent growth and up from 0.5-percent growth in August. Along with other recent positive data, business investment continues to show strong growth. This has been one of the weak areas of the recovery, and its continued strength remains a positive sign.
Also on Wednesday, new home sales did much better than expected. They rose to 667,000 in September, up from 560,000 in August and well above expectations for 554,000. August's number was a surprise drop to the lowest level since the end of last year. So, the bounce back suggests that weak month was a one-off, rather than a change in trend. Plus, it relieves some of the concerns from the weak housing starts data.
Finally, the first estimate of economic growth for the third quarter surprised to the upside on Friday. Annualized growth for the third quarter was estimated at 3 percent. This result was down only slightly from 3.1 percent in the second quarter, despite the disruptions from the hurricanes, and well above expectations of 2.5 percent. While consumption growth slowed, as expected, it remained reasonably healthy. Business investment also grew strongly, per the durable goods numbers discussed above, and net exports added to growth. The broadening of the growth trend is a very positive development.
One potential area of concern was that inventories grew and added 0.7 percent to the growth rate. While this could be a sign of weakening demand, strong business confidence figures suggest it is more a reflection of companies stocking up for the future and, therefore, a positive. That said, this is still worth watching.
What to look forward to
It will be a busy week on the data front, and we'll get a wide-ranging look at the economy.
On Monday, personal income came in with 0.4-percent growth for September, up from 0.2 percent in August, which was expected. Personal spending was up by 1 percent, which was slightly above expectations of 0.9-percent growth and well above the August level of 0.1 percent. Both of these numbers were affected by the hurricanes, with spending particularly inflated as new autos replaced those destroyed by the storms and gasoline prices rose. These are solid numbers and suggest continued growth.
On Tuesday, the consumer confidence survey will be released and is expected to increase from 119.8 to 121. This remains at a very strong level historically, and the improvement would be due to lower gas prices from the post-hurricane spike and a strong job market. Strong consumer confidence is likely to keep spending growing, which would be a boon for the economy.
The regular meeting of the Federal Open Market Committee will conclude on Wednesday. There is hope for the possible announcement of President Trump's selection for the next chair of the Federal Reserve, which would be big news.
Also on Wednesday, the Institute for Supply Management (ISM) Manufacturing index is expected to pull back slightly from 60.8 to a very strong 59. Last month's spike was largely due to technical adjustments after the hurricanes, so a small reduction was expected. Similar to the ISM Manufacturing index, the ISM Nonmanufacturing index is expected to decline slightly from 59.8 to 58 on Friday. Both of these indices indicate solid growth.
The international trade report, which will be released on Friday, is expected to pull back a bit, from a deficit of $42.4 billion in August to $43.5 billion in September. This is also due to hurricane effects, as petroleum exports were shut down during the storms. Preliminary data shows that the trend has reversed, so the pullback is of little concern, as export growth continues.
Finally, on Friday, the employment report is expected to show a major reversal of the hurricane-induced job loss seen last month. Job growth is expected to swing from a loss of 33,000 in September to a gain of 310,000 in October. Wage growth is expected to drop back from 0.5-percent growth to 0.2-percent growth, as overtime pay due to the storms drops out of the data. Other indicators are expected to remain steady, with unemployment at a very low 4.2 percent and the average workweek remaining at 34.4 hours. If the numbers come in as expected, this would be another strong report.
Have a great week!