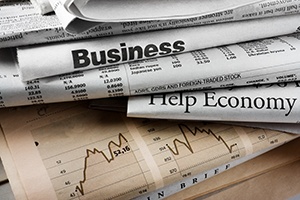 We saw a wide range of economic news last week, including a detailed look at consumer income and spending; business confidence in both the manufacturing and service sectors; the international trade report; and, most important, the July jobs report. While there are some areas of concern, the jobs report suggests that the recovery continues.
Last week's news
On Tuesday, the personal income and spending report came in well below expectations. Personal income was flat for June, far below the expected growth of 0.4 percent, and May was revised down from 0.4 percent to 0.3 percent. Spending growth matched expectations, but at very weak levels: 0.1 percent in June (the same as in May). While income growth has done well recently, the weak June result could signal a turn in momentum. Plus, the weakness in spending growth suggests economic growth may well stay steady rather than accelerate. With strong earnings and jobs growth, however, the weak income report may be an outlier. Overall, it's worth watching, but it's too early to merit serious concern.
The Institute of Supply Management (ISM) Manufacturing survey was also released on Tuesday. As expected, it dropped from 57.8 in June to 56.3 in July. This is a diffusion survey, where values over 50 indicate expansion. June's figure was the highest in nearly three years, and the production and new orders subindices remain above 60. So, even with the decline, manufacturing is still expanding at a healthy pace. Faster global growth and a weaker dollar have supported U.S. manufacturing and look likely to continue to do so.
On Thursday, the ISM released the Nonmanufacturing survey (i.e., service sector), which was a significant disappointment,. It dropped from 57.4 to 53.9, an 11-month low and well below the expected result of 56.9. As previously noted, this is still expansionary but is a much larger pullback and may suggest a more general loss of momentum. Given weakness in retail sales, and cautionary notes from other surveys, further acceleration of economic growth in the third quarter may be less likely. That said, however, this is a volatile data series, so one month is too short of a time frame to raise real concern.
The international trade report, released on Friday, did better than expected: the trade deficit narrowed from $46.4 billion in May to $43.6 billion in June. With strengthening exports, the goods trade deficit has narrowed, and the service trade balance remains roughly constant. A lower deficit is better for U.S. economic growth, and the improvement is constructive.
Finally, the employment report surprised to the upside on Friday. Job growth was 209,000 in July. This result was down from an upwardly revised 231,000 in June but well above expectations of 180,000. The unemployment rate dropped back from 4.4 percent to 4.3 percent, wage growth picked up from 0.2 percent to 0.3 percent, and the average workweek remained constant. On an annual basis, wage growth moved back to 2.5 percent, above the expected 2.4 percent. Despite some of the weak data, then, this was a strong report. It suggests the recovery remains solid, if not accelerating.
What to look forward to
After a busy week, the only major economic report we'll see this week will deal with consumer prices. It will be released on Friday.
Headline consumer price inflation, including food and energy, is expected to rise by 0.2 percent for July, up from flat in June. On an annual basis, headline inflation is expected to rise to 1.8 percent, up from 1.6 percent. These numbers would still be below the Fed's inflation target of 2 percent per year, but a rebound would be considered healthy.
Core prices, which exclude food and energy, are also expected to increase by 0.2 percent for July, up from an increase of 0.1 percent in June. On an annual basis, core inflation is expected to remain steady at 1.7 percent.
There appears to be more upside than downside risk to these numbers. So, although there are concerns about low inflation dropping even lower, prices will likely moderate if these reports come in as expected. This, in turn, would make the Fed more likely to start reducing its balance sheet in September.
Have a great week!