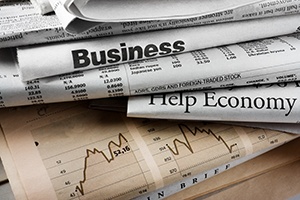 Last week was a busy one on the economic front, as we started the new year and covered a wide range of economic activity. This week's data starts with prices and whether inflation is picking up.
Last week's news
On Monday, the Institute for Supply Management Nonmanufacturing index pulled back a bit further than expected, going from 60.7 in November to 57.5 for December. This is a diffusion index, where values above 50 indicate expansion and below 50 indicate contraction. So, this result still leaves it well in expansionary territory and close to the 21-year high from September. The pullback came from slowing growth in the service sector, but the details were more positive. The new orders index rose to a six-month high, indicating future prospects remain solid. Overall, even with the pullback, this index remains positive for the economy as a whole.
On Tuesday, the international trade report was not released due to the federal government shutdown. It was expected to show the trade deficit improved slightly, from $55.5 billion to $54 billion. This expected moderation would suggest that the damage to exports from the current trade conflict is not getting worse, which would be positive. This report and others affected by the shutdown will be released when the government reopens. Overall, if the numbers come in as expected, trade will likely continue to be a drag on fourth-quarter growth.
On Wednesday, the minutes from the December meeting of the Federal Open Market Committee were released. After the rate increase and hawkish tone of the postmeeting press conference upset markets, the discussion in the actual minutes was considerably more dovish. It suggested future rate increases will be on the low end of expectations, which was considered positive by markets.
Supporting this, on Friday, the consumer price reports showed moderating inflation at the headline level. The headline index, which includes food and energy, declined slightly as expected. It was down by 0.1 percent for December and from flat for November, on a decrease in gasoline costs. The annual figure dropped, as expected, to 1.9 percent in December from 2.2 percent in November, a 17-month low. The core index stayed steady at a 0.2-percent increase for December, the same as November, while the annual figure also held at 2.2 percent. These figures indicate core inflation continues to run somewhat above the Fed's target levels, which should continue to support interest rate increases. But the fact that the level remains steady means such increases could be gradual.
What to look forward to
On Tuesday, the producer prices report will be released. The headline index, which includes energy and food, is expected to drop by 0.1 percent for December, down from a 0.1-percent increase in November, on declines in gasoline and commodity prices. The annual change is expected to stay steady at 2.5 percent, on base effects, indicating that longer-term inflation pressures remain elevated above the Fed's target range but may be moderating. The core index, which excludes energy and food, is also expected to show slower growth, at 0.2 percent for December, down from 0.3 percent for November. Here, the annual figure is expected to rise from 2.7 percent to 3 percent, also on base effects. This increase will keep some pressure on the Fed to raise rates.
Also on Tuesday, the retail sales report is due, but it will not be released until the end of the federal government shutdown. It is expected to show faster growth, rising from 0.2 percent in November to 0.3 percent in December. Core retail sales, which exclude autos, are expected to be steady, with December growth of 0.2 percent. There may be some downside risk to these numbers, with the fading of the tax cut boost and recent turbulence in the financial markets.
The National Association of Home Builders survey will also be released on Tuesday. It is expected to bounce back slightly, rising from 56 in December to 57 for January, after a large drop over previous months. On Thursday, the housing starts report will be released if the government reopens. It is expected to drop slightly, from 1.256 million to 1.253 million annualized, although the survey results and building permit data suggest the final result might be better than expected. Overall, these figures would suggest the housing slowdown may be moderating.
On Friday, the industrial production report is expected to pull back from a surprise gain of 0.6 percent for November to a still healthy gain of 0.3 percent for December. There may be some downside risk here, on a weather-related decrease in utility production. Manufacturing is expected to do well, with growth rising from flat in November to growth of 0.3 percent for December. There may be some downside risk here, as surveys have weakened recently.
Finally, the University of Michigan consumer confidence survey, also released on Friday, is expected to show confidence pulling back further from 98.3 for December to 96.4 for January. This would remain a high level, historically, and suggests that consumers are not significantly worried about the recent stock market turbulence or the trade war, given the continued strong labor market and decline in gas prices. This level should continue to support consumer spending and economic growth.
Have a great week!