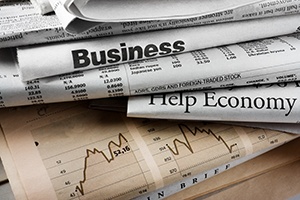 We had only two major economic news releases last week, but the week ahead will be a busy one.
Last week's news
On Monday, the Institute for Supply Management Nonmanufacturing index, which tracks the service sector, was released. It increased substantially more than expected, from 56 in December to 59.9 in January—well above expectations of 56.7. This is a diffusion index, with values above 50 indicating expansion. While the index has been down for two months in a row, this bounce recovers those losses and leaves the index at the highest level since 2005. This is strongly expansionary, with 15 of 18 industries growing.
The international trade report, released on Tuesday, showed that the trade deficit widened again in January. It was down to $53.1 billion from $50.4 billion in December. This result was worse than expectations of $52.1 billion, on a goods trade deficit that widened by $1 billion. This will be a further drag on economic growth for the fourth quarter. The signs are, however, that export growth should start outpacing import growth in 2018, which should improve matters going forward.
What to look forward to
This week's economic data will cover wide slices of the economy.
On Wednesday, we'll learn about consumer prices. Headline inflation, which includes food and energy, is expected to increase by 0.4 percent in January, up from a 0.2-percent increase in December, on higher gasoline and natural gas prices. On an annual basis, however, headline inflation is expected to decline—from 2.1 percent to 2 percent—due to base effects from one year ago. Core prices, which exclude food and energy, are expected to show a smaller increase, dropping from 0.3 percent in December to 0.2 percent in January. This would take the annual rate down to 1.7 percent.
We will also see the retail sales report on Wednesday. The headline number, which includes autos, is expected to drop from 0.4-percent growth in December to 0.3-percent growth in January. This would be due to a decline in auto sales, as the post-hurricane replacement sales wind down. Core retail sales, which exclude autos, are expected to increase from a 0.4-percent gain in December to a 0.5-percent gain in January. Much of this increase, though, would come from higher gasoline prices rather than higher spending on other items.
On Thursday, the industrial production report is expected to decline sharply, from a 0.9-percent increase in December to a 0.2-percent increase in January. Much of this decline, however, would be due to more normal weather conditions, just as last month's increase resulted from higher utilities output caused by unusually cold weather. As such, this indicator would remain at a healthy level. Manufacturing output growth is expected to rise from 0.1 percent in December to 0.3 percent in January, as this sector continues to benefit from a weaker dollar and strong global demand.
Turning to the housing sector, on Thursday, the National Association of Home Builders survey is expected to remain at a strong 72, which is consistent with continued growth. On Friday, housing starts, which declined in December to an annual rate of 1.19 million, are expected to rebound in January to a rate of 1.25 million. Such increase would be due to a rise in building permits, which reached a 10-year high in December.
Finally, on Friday, the University of Michigan consumer confidence survey is expected to drop back marginally, from 95.7 in January to 95.5 in February. Strong job growth is expected to support this index, although the recent stock market pullback might present some downside risk.
Have a great week!