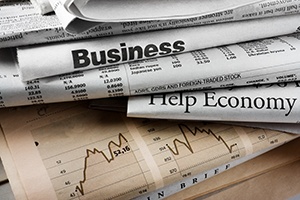 Last week was relatively quiet on the economic update front, with only three major data releases. The reports on international trade and service sector confidence beat expectations, but December jobs didn't meet the number forecasted. This week will be packed with news, as more than a half dozen important releases are scheduled.
Last week's news
On Tuesday, November's international trade report was released. The trade deficit narrowed by more than expected, from $47.2 billion in October to $43.1 billion in November, against expectations for a move to $43.6 billion. Rising exports and shrinking imports combined to produce this result, bringing the monthly trade deficit to its lowest level since October 2016. The increase in exports was driven in large part by a surge in motor vehicles shipments following the end of the General Motors (GM) strike in October. Imports were negatively affected by the tariffs on consumer goods from China enacted in September. But this lull may be temporary, as the tariffs are set to be rolled back as part of a "phase one" trade deal between the U.S. and China. November's report indicates that net trade is likely to be a positive contributor to GDP growth in the fourth quarter. Such a result would mark the first time trade has been a net positive to overall economic growth since the first quarter of 2019.
Tuesday also saw the release of the ISM Nonmanufacturing index for December. Service sector business confidence rose to end the year, from 53.9 in November to 55 in December, beating expectations for a increase to 54.5. This result helps calm fears for further economic slowdown following the disappointing results for manufacturer confidence during the month. The ISM Composite index, which combines manufacturer and service sector confidence, increased to a four-month high and is now at levels that have historically indicated 1 percent GDP growth. Although a decline to 1 percent GDP growth for the fourth quarter marks slower growth than that seen during the rest of the year, slower growth is still growth and should be welcomed.
Finally, on Friday, the December employment report was released. Jobs added during the month numbered 145,000, less than the 160,000 expected. Following two months in which job creation beat expectations, this result is disappointing. But, despite this miss, the December result demonstrates that new jobs grew at the fastest quarterly pace since the first quarter of 2019. The underlying data was mixed. Wage growth came in below expectations, but the unemployment rate remained unchanged at a 51-year low of 3.5 percent. The underemployment rate fell from 6.9 percent to 6.7 percent, which is a post-recession low. Ultimately, while the December headline jobs figure came in slightly below expectations, the employment market looks healthy to end the year. The overall pace of new job creation certainly appears to have recovered from a midyear lull, setting us up nicely for further growth in 2020.
What to look forward to
We'll start the week with Tuesday's release of the December Consumer Price Index. This measure of consumer inflation is set to rise by 0.2 percent during the month, following a 0.3 percent increase in November. Year-over-year headline consumer inflation is expected to hit 2.4 percent, up from 2.1 percent in November. Core inflation, which strips out the impact of volatile food and energy prices, should rise by 0.2 percent during the month. This result would translate to year-over-year core consumer inflation of 2.3 percent. This forecast can be partially attributed to a rollback on September's tariffs on consumer goods from China, which is set to occur as part of the phase one trade deal.
Wednesday will see the release of the December Producer Price Index, which is expected to go up by 0.2 percent, following a flat November. Year-over-year producer inflation is set to increase by 1.3 percent, up from 1.1 percent in November. Producer inflation fell sharply in November, as the prices for services dropped due to price cutting related to the trade war. Although both consumer and producer prices are set to increase during December, inflation remains well within the Fed's stated 2 percent target range. We're unlikely to see any changes to the federal funds rate in the short term.
On Thursday, the December retail sales report will be released. Sales are expected to grow by 0.3 percent, following a 0.2 percent gain in November. This would mark the third straight month with solid retail sales growth, after a surprise decline in September. Consumer spending growth has been the major driver of GDP growth over the past year, so a strong result in December would bode well for fourth-quarter GDP growth. Core sales, which strip out the impact of auto and gas prices, are expected to show solid 0.4 percent monthly growth, indicating that consumers are still willing and able to spend.
Thursday will also see the release of the December National Association of Home Builders Housing Market Index. This gauge of home builder confidence is expected to fall from 76 in November to 74 in December. November's result was a 20-year high for the index, so a pullback is not worrisome. Home builder confidence rebounded impressively in 2019, after falling to a three-year low of 58 in December 2018. Lowered mortgage rates were the driver, sending more prospective buyers into the market throughout the past year. Home builders took notice and ramped up new construction to meet the additional demand.
Speaking of new construction, Friday will see the release of December's building permits and housing starts reports. Permits are expected to decline slightly, while economists predict housing starts to rise from 1,365,000 to 1,380,000. If this estimate holds, housing starts would be at their highest monthly level since the summer of 2007. The housing rebound was one of the bright spots for economic growth in 2019, so more new homes and construction spending would be quite welcome in markets with a constrained supply.
Friday will also see the release of December's industrial production report. Production is expected to come in flat for the month. In contrast, we had a better-than-expected 1.1 percent gain in November, boosted by the end of the GM strike and the associated growth in auto manufacturing. Manufacturing output is set to increase by a modest 0.2 percent for December, following growth of 1.1 percent in November. The anticipated slowdown is not surprising, given the very weak manufacturer confidence we've seen over the past few months. Still, growth would be encouraging, even if it's slower than November's.
Finally, we'll finish out the week with Friday's release of the University of Michigan consumer confidence survey for January. Economists expect confidence to fall slightly, from 99.3 in December to 99.2 in January. December's sentiment came in higher than originally estimated, so a pullback would not be an immediate cause for concern. The employment report for December, which slightly missed predictions, is likely one of the primary factors causing economists to forecast a pullback. A healthy jobs market is a major driver of consumer sentiment, and improving sentiment typically supports faster spending growth. So, given the largely rangebound nature of the index of the past year, this data release will be important.
That's it for this week—thanks for reading!