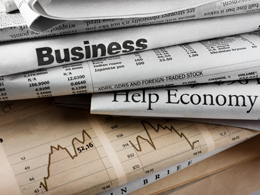 Overall, the data last week was encouraging on the consumer side, and we'll find out this week whether that translates to the business side as well.
A review of last week's news
There were three economic events of significance: the Federal Reserve chair's testimony to Congress and two data releases that reflected on consumer confidence, directly and indirectly.
Although Janet Yellen's testimony contained few surprises—with rate hikes still described as "gradual"—she no longer described risks as "balanced," a slightly downbeat signal. Other comments indicated that the Fed is watching foreign economic developments but isn't very concerned at this point. The Fed chair gave no hint that rates were likely to rise at the next meeting in March. For markets, a question about the possibility of negative interest rates here in the U.S. prompted some worry when Yellen failed to rule them out. What she actually said, however, was that negative rates hadn't really been studied here, which suggests that the Fed is not even looking at the possibility, at least yet.
Retail sales numbers for January surprised to the upside, with an increase of 0.2 percent, beating expectations for a 0.1-percent increase. Just as important, the December figure was revised upward significantly, from a decline of 0.1 percent to a gain of 0.2 percent. Excluding autos and gas (which is a better indicator of core consumer demand), retail sales growth did even better, increasing by 0.4 percent, above expectations. The previous month also saw an upward revision.
Strong retail sales numbers were the good news; the less-good news came from the University of Michigan Consumer Sentiment Index, which decreased from 92.0 to 90.7. Lower gas prices were expected to offset the volatility in the stock market, but the turbulence has clearly taken its toll on public confidence. Nonetheless, despite extending the recent downward trend, the current reading suggests continued growth.
A look at the week ahead
If last week was about consumers, this week is about business.
On Tuesday, the National Association of Home Builders will release its monthly survey, which is expected to remain close to record levels of 60, as the housing industry continues strong. Wednesday will see the release of housing starts for January, which are expected to bounce back to around 1.17 million from a weaker result of 1.149 million the previous month, due to wet weather everywhere in the country except the Northeast.
We will also get industrial production data on Wednesday. After a series of weak months, caused in part by warmer-than-usual weather depressing utility production, the reading is expected to rebound strongly, with an increase of 0.4 percent, over the previous month's decline of 0.4 percent. Manufacturing is expected to do better as well, with an increase of 0.3 percent after a decline of 0.1 percent the previous month, which would be a very positive sign.
The minutes of the last Federal Open Market Committee meeting, from three weeks ago, will also be released on Wednesday but are expected to contain nothing of note. Given everything that's happened since then, particularly Yellen's Congressional testimony, events have likely overtaken any analysis in the minutes. They will still be scrutinized closely, however, particularly for signs of the Fed's concerns about inflation.
On Thursday, consumer price data will be released, with expectations for another monthly decrease of 0.1 percent and annual increase of 1.3 percent. The annual increase would represent a significant rise from last month's 0.7 percent, due to base effects around oil price declines last year, a trend that is likely to continue. For core prices, excluding energy and food, the monthly increase is expected to be 0.2 percent, up from 0.1 percent, and the annual increase is expected to hold steady at 2.1 percent. The Fed has indicated that its primary concern is now inflation, but if these numbers come in as expected, they shouldn't change the Fed's plans for gradual rate increases.
Have a great week!