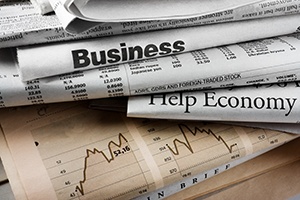 Last week's reports gave us a look at pretty much the entire economy, including consumer spending, the housing market, and industrial production and manufacturing. In the week ahead, we'll see data on consumer confidence, durable goods, and gross domestic product growth.
Last week's news
The retail sales report, released on Monday, showed growth in the headline sales index. It went from a decline of 0.1 percent in February to a strong gain of 0.6 percent in March, fueled by a rebound in auto sales. Growth would have been even stronger, but a drop in gas prices pulled gas sales down. Core retail sales, which exclude autos and gas, remained steady at a healthy growth level of 0.3 percent for March, the same as February. This is a healthy report, showing that consumers continue to spend. Still, overall consumer spending growth slowed during the first quarter—to the weakest level in more than a year. Going forward, we need to watch whether the tax cuts and high confidence levels will continue to push spending growth back up. This month's results suggest that may be the case.
Also on Monday, the National Association of Home Builders survey dropped from a strong 70 to 69, which is still healthy and continues to be positive for the industry. Housing starts, released on Tuesday, rose by more than expected: from 1.236 million in February to 1.319 million in March, well above the expected 1.27 million. This upside surprise is positive after significant volatility in recent months in both the multifamily and single-family sectors. Demand continues to be strong, although supply remains constrained, especially for existing homes.
Industrial production growth, also released on Tuesday, beat expectations. It moderated from an upwardly revised, and unsustainably strong, 1 percent in February to a healthy 0.5 percent in March, above expectations of 0.3 percent. This variance includes substantial weather-driven swings in utility production. But manufacturing output, which is a better economic indicator, came in below expectations. It declined from an upwardly revised 1.5-percent growth in February, largely driven by oil and gas production, to a disappointing 0.1-percent growth for March, below expectations of 0.4-percent growth. Given the upward revision in February, however, the final production level was close to expectations.
What to look forward to
This week's economic news starts with housing. Monday's existing home sales report came in better than expected. It showed that sales rose from 5.54 million in February to 5.6 million in March, continuing the recovery from a disappointing January. On Tuesday, new home sales are also expected to rise, from 618,000 to 625,000. Again, this would be a partial recovery from a significant drop late last year. If the numbers come in as expected, they would indicate a continued recovery in housing to its previous growth level.
Also on Tuesday, the Conference Board's survey of consumer confidence is expected to drop again, from 127.7 to 126. Although this is still a very high level, confidence has been declining slowly from its recent decade-plus high. There also may be some downside risk to this number, given rising gas prices and recent stock market turbulence.
On Thursday, the durable goods orders report is expected to show a slowdown in growth from a very strong 3 percent in February to a still strong 1.1 percent in March, supported by rising aircraft orders and motor vehicle sales. Core orders, which exclude transportation, are expected to slow from 1-percent growth in February to 0.4-percent growth in March. These numbers would represent a full recovery from January's decline. Further, they would indicate that business investment, although slowing, continues to expand.
Finally, on Friday, we'll see the first estimate of gross domestic product growth for the first quarter. Growth is expected to drop from 2.9 percent in the last quarter of 2017 to 2.1 percent for the first quarter of 2018 due to slower increases in household spending and business investment. It's possible that remaining seasonal effects could push the number down even more, as has happened in the past, which would suggest faster growth ahead.
Have a great week!