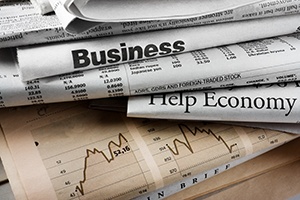 Last week started off with looks at prices and whether inflation is picking up. This week is a short but busy one on the economic front, with reports on housing and durable goods demand.
Last week's news
On Wednesday, the Consumer Price Index showed higher inflation at the headline level. The headline index, which includes food and energy, rose by 0.3 percent in October, as expected, up from 0.1 percent in September. This result was due to an increase in gasoline costs. The annual figure rose to 2.5 percent in October, also as expected, up from 2.3 percent in September. The core index increased from growth of 0.1 percent in September to 0.2 percent in October. The annual figure came in below expectations, dropping slightly from 2.2 percent in September to 2.1 percent in October. These figures indicate that inflation continues to run somewhat above the Fed's target levels, which should continue to support interest rate increases.
On Thursday, the retail sales report showed a substantial bump in growth after two weak months. The headline index was up by 0.8 percent in October from a 0.1-percent gain in September, well above the expectation for 0.5-percent growth. This result was due to a price-driven increase in gas sales and replacement auto sales for those damaged by Hurricane Florence. The core index, which excludes autos, also did well, with October growth of 0.7 percent. This result was up from a decline of 0.1 percent in September and was also affected by higher gas prices. This rebound in spending growth is a healthy indicator and suggests that the recent weak period may be passing, which would be positive for the economy.
Finally, on Friday, the industrial production report ticked down a bit more than expected, going from a gain of 0.3 percent in September to a gain of 0.1 percent in October due to a weather-related decrease in oil production. Manufacturing did better, as was expected, with growth remaining steady from an upwardly revised 0.3-percent gain in September to a 0.3-percent gain in October. This result showed that a stronger dollar and trade concerns have not yet affected U.S. business. Overall, the reports indicate continued growth and are positive for the economy.
What to look forward to
On Monday, the National Association of Home Builders (NAHB) Housing Market Index was released. This report came in well below expectations, down from 68 for October to 60 for November. This decline came despite reports of strong prospective buyer numbers and low lumber prices, suggesting that the housing slowdown will continue.
This result also calls into question the expectations around other housing reports. For example, on Tuesday, the housing starts report is expected to show a small increase after a decline last month, rising from 1.20 million in September to 1.23 million (annualized) in October. Building permit data suggests, however, that the final number might be even better than expected. On Wednesday, the existing home sales report is expected to show sales increasing slightly, from 5.15 million in September to 5.20 million in October. Housing in general appears to be in a slowing trend, but this data would suggest that the slowdown may be moderating, which would contradict the NAHB survey results.
Also on Wednesday, the headline index of the durable goods orders report is likely to show a substantial pullback. It is expected to fall from a 0.7-percent gain in September to a 2.1-percent decline in October due to a decrease in aircraft orders. The core index, which excludes transportation and is a much better economic indicator, is expected to improve from flat growth in September to 0.4-percent growth in October due to growing business investment. This would be a healthy level of growth. There may be some downside risk here, however, as the Institute for Supply Management Manufacturing index remained weak in October.
Thanks for reading and have a great week!