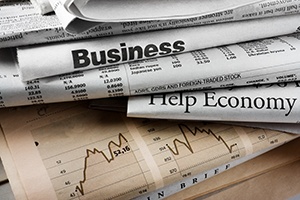 Last week, important updates on retail sales, home builders, and industrial production yielded mixed results. This week, we're expecting some more ups and downs, with updates to come on home sales, durable goods, and consumer confidence.
Last week's news
On Wednesday, September's retail sales report was released. Headline sales came in worse than expected, falling 0.3 percent against expectations for a 0.3 percent gain. Part of this decline can be attributed to falling gas prices. But even the core retail sales figure, which strips out the impact of gasoline and vehicle prices, disappointed by remaining flat for the month. Retail sales had gone up for the past six months, so this modest decline is not an immediate concern provided that we see growth return in the coming months. This data point will be important to monitor going forward. A continued slowdown in sales would likely lead to an overall slowdown in economic growth for the fourth quarter.
Wednesday also saw the release of the National Association of Home Builders Housing Market Index, which came in better than expected. This measure of home builder confidence increased from 68 in September to 71 in October, against expectations to remain flat. This is the fourth straight month of increasing home builder confidence, bringing the index to its highest level since February 2018. Lowered borrowing costs and healthy demand have bolstered home builder confidence over the past quarter, as housing growth has picked up noticeably.
Despite the uptick in home builder confidence, Thursday's release of September's building permits and housing starts showed declines for both reports. Housing starts fell by 9.4 percent during the month, against expectations for a 3.2 percent decline. Building permits fell by 2.7 percent, against expectations for a 5.3 percent drop. These measures of future housing stock can be very volatile on a month-to-month basis. Despite the decline in September, they remain near post-recession highs.
Thursday also saw the release of September's industrial production report, which came in slightly worse than expected. Production fell by 0.4 percent during the month, against expectations for a 0.2 percent decline. Manufacturing output fell by 0.5 percent in the same period, dragging down overall production growth. As this decline in manufacturing output was due in large part to the continued General Motors strike, a resolution to that standoff would likely help production bounce back. Nonetheless, manufacturer confidence is at its lowest level since June 2009. This sector of the economy is not expected to show meaningful growth in the short run.
What to look forward to
On Tuesday, September's existing home sales report is set to show a modest 0.5 percent decline for the month. Despite the anticipated decline in monthly sales, however, existing home sales are expected to show strong year-over-year growth. Such a result would mark the third straight month of year-over-year growth in existing home sales. This trend is encouraging given the weakness we saw in 2018 and the beginning of this year.
On Thursday, September's durable goods orders report will be released. Economists expect orders to decline by 0.6 percent during the month, believing that uncertainty regarding trade will slow business investment. As forecasted for the industrial production figures, the General Motors strike is likely to play a part in the predicted slowdown. Core durable goods orders, which strip out the impact of volatile transportation orders, are expected to decline by 0.3 percent.
Also on Thursday, September's new home sales are scheduled to be released. As with sales of existing homes, new home sales are expected to show a modest 0.4 percent monthly decline, with strong year-over-year growth. Compared with existing home sales, new home sales represent a smaller and more volatile portion of the market. If new homes sales decline, the broader housing market is unlikely to be affected.
Finally, we'll finish the week with the second and final reading of the University of Michigan consumer confidence survey for October. The index is not expected to change from the preliminary reading of 96 earlier this month. If confidence remains unchanged from the start of October, this result would represent a healthy recovery from the drop to 89.8 that we saw in August and would mark the second straight month of increasing confidence. Given the slowdown we saw in September's retail sales, continued improvements to consumer confidence would go a long way to calm concerns about a potential slowdown in the fourth quarter.
That's it for this week—thanks for reading!