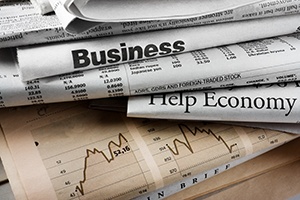 Last week's data brought more of what we've been seeing lately: strong sentiment but weaker results. Despite some disappointments, the general levels of activity remain expansionary, though the headline declines do bear watching. That said, I don't think last week's news should significantly change expectations going forward.
A look at last week's data
Confidence surprises to the upside. Last Thursday, the University of Michigan Consumer Confidence survey rose unexpectedly to 98.0, up from 96.9 and above expectations for a small drop to 96.5. The increase reflects low gas prices and the drop in the unemployment rate. On a six-month average basis, this index is the highest it has been since March 2001. Both major consumer surveys continue to indicate high levels of confidence.
Consumer price data disappoints. Consumer price data also surprised, but in this case to the downside. The headline inflation index dropped by 0.3 percent for the month, missing expectations for a flat result on top of an increase of 0.1 percent in the previous month. The index is now up 2.4 percent for the year, which is lower than the 2.6-percent increase it exhibited a month ago.
Similarly, the core inflation index, which excludes energy and food, also declined—by 0.1 percent on the month—leaving the annual increase for the index at 2 percent, when it had been at 2.3 percent in March.
The declines were driven by a substantial decrease in gas prices for the headline index and structural changes in telecom pricing and used-car prices for the core index, which indicate that the disappointing performance is likely a one-off event rather than the start of a new lower-inflation trend.
Retail sales figures also miss expectations. The big news last week, though, was the retail sales report on Friday, and it disappointed as well. The headline sales index dropped by 0.2 percent; even worse, the prior month's gain of 0.1 percent was revised down to a 0.3-percent decline, giving us the biggest two-month decline in more than two years. Core sales—excluding autos—were flat, but again the prior month was revised down from 0.2 percent to flat. Both of these results were influenced by declines in gas prices.
The news was better for the more restricted control group sales, which exclude autos, gas, and building materials. Here, sales actually rose by 0.5 percent, but they were offset by a downward revision to the prior month, from a gain of 0.1 percent to a drop of 0.2 percent. Overall, real consumption barely increased at all in the first quarter.
A brighter picture? Despite these results, however, the situation is better than it might appear. A change in IRS procedures, which delayed tax refunds, likely played a role in slow spending growth, as did late-season snowstorms. On an annual basis, which helps erase seasonal factors, retail sales rose 5.4 percent—the highest level since mid-2012—so the long-term trend remains positive despite current weakness. While this will certainly bear watching, it is too early to panic.
The week ahead
This week's data is about housing and business.
The National Association of Home Builders survey was released this morning, showing a drop in sentiment from 71 last month, a 12-year high, to 68, which was below expectations of 70. Despite the decline, sentiment remains at an extremely high level, and the drop is likely not significant. We will get another read on this tomorrow, when the housing starts number is released; expectations are for a small decline from 1.288 million to 1.26 million.
Also on Tuesday, the industrial production report will signal whether the recovery in those sectors continues. Expectations are for a gain of 0.4 percent, up from 0.1 percent, with substantial upside risk on a likely recovery in utility production, as March weather was more typical, which is to say colder, than the first two months of the year. Expanded oil production should also help growth, as the U.S. oil industry continues to expand production. On the manufacturing side, growth is expected to moderate, down from 0.5 percent to 0.2 percent, which would still indicate continuing recovery.
Finally, on Friday the existing home sales number should signal continued strong demand for housing, with sales expected to rise from 5.48 million to 5.55 million. There may be some downside risk here, on a lack of supply, as the supply of homes available remains at close to a 34-year low.
Have a great week!