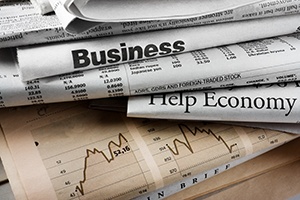 Today's post is from Sam Millette, a fixed income analyst on Commonwealth's Investment Management and Research team.
Last week was relatively quiet on the economic update front, with a handful of major releases focused primarily on housing and business spending. This week should be similar, with data releases centered on consumers.
Last week's news
On Wednesday, the minutes from the August 1 meeting of the Federal Open Market Committee were released. In general, the members of the Fed have a positive outlook for the economy. Based on its messaging, market participants expect a rate hike at the next meeting in September.
The Fed does expect growth in the second half of the year to slow down slightly from the rapid pace in the second quarter. The minutes also showed that the Fed is concerned about a potential slowdown in housing. Given the importance of the housing market on the overall economy, this will be a significant area to keep an eye on.
Speaking of housing, both existing home sales and new home sales fell in July. These declines were disappointing, as economists had anticipated a rebound in sales following similar declines in June. A slowdown in housing growth has the potential to create knock-on effects in a number of industries, including construction and mortgage financing. On an absolute basis, housing sales are still at healthy levels compared with prior years, so the immediate concerns are not too bad. But a potential rollover in housing growth could lead to lower overall economic growth and should be monitored.
On Friday, July durable goods orders came in lower than expected. Headline durable goods declined by 1.7 percent in July, against expectations for a drop of 1 percent. This larger-than-expected decline is a bit misleading, however, as it is due primarily to a significant drop in historically volatile aircraft orders. The core figure, which strips out transportation orders, grew by a healthy 0.2 percent. Sustained growth at these levels suggests that third-quarter GDP growth around 3 percent to 3.5 percent is possible.
What to look forward to
On Tuesday, the Conference Board Consumer Confidence Index is expected to decline slightly due primarily to rising inflation concerns. Wage growth has been relatively muted over the past year, so the increase in consumer inflation we've experienced in the past few months is starting to be felt. Nevertheless, consumer confidence should remain near recent highs, as the overall strength of the economy continues to inspire confidence.
On Thursday, July's personal income and spending data is set for release. Both are expected to grow 0.4 percent, which is in line with June's growth levels. Strong growth in these measures to start the third quarter would be a good sign for overall economic growth for the second half of the year.
Thanks for reading and have a great week!