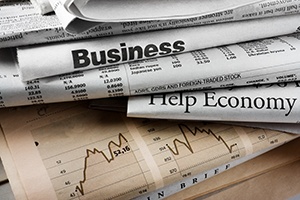 This was a full week of economic updates, including reports on housing, consumer confidence and spending, and durable goods orders. May's personal spending report was a highlight, as consumers showed they were willing and able to go out and spend once reopening efforts began in earnest. This will be another busy week on the economic update front, with reports on manufacturer and consumer confidence, international trade, and June employment.
Last week's news
On Monday, May's existing home sales report was released. Sales of existing homes fell by 9.7 percent during the month, against expectations for a 5.6 percent decline. Following a 17.8 percent drop in April, this disappointing result brought the annualized pace of existing home sales down to a nine-year low of 3.91 million. The declines were geographically widespread, with sales down by double digits on a year-over-year basis across all four major regions of the country. Before the pandemic hit, existing home sales showed solid growth in 2019 and the first two months of the year, peaking at an annualized rate of 5.76 million in February. With mortgage rates near a three-year low and consumer confidence stabilizing in June, we can hope that home sales may rebound in the upcoming months. As May's disappointing results showed, however, the disruption to the housing market caused by the pandemic was severe. It's likely that the pace of home sales will take some time to recover to pre-pandemic levels.
On Tuesday, May's new home sales report was released. New home sales increased by more than anticipated during the month, rising by 16.6 percent, against expectations for a more modest 2.7 percent increase. On a less positive note, April's surprising 0.6 percent increase in new home sales was revised down to a 5.2 percent decline. New home sales are a smaller and, as we saw in April, often more volatile portion of the housing market compared with existing home sales, but the May jump is still a positive sign for the overall housing market. Once again, the combination of low rates and improved consumer demand is expected to serve as a tailwind for new home sales as we head into the summer months.
Thursday saw the release of the preliminary durable goods orders report for May. Durable goods orders increased by 15.8 percent during the month, following a downwardly revised 18.1 percent decline in April. This result was higher than economist estimates for a 10.5 percent increase. Much of the increase in headline durable goods orders can be attributed to volatile transportation orders. Core durable goods orders, which strip out the impact of transportation orders, increased by 4 percent during the month, against expectations for a 2.1 percent rise. This increase for core durable goods orders was not enough to offset April's 8.2 percent decline, however. While the boost to headline and core durable goods orders in May was welcome, these measures of business activity were hit especially hard by the pandemic. There is still a long road to getting back to pre-pandemic levels.
Thursday also saw the release of the weekly initial jobless claims report for the week ending June 20. There were 1.48 million initial unemployment claims filed, down from an upwardly revised 1.54 million claims the week before but higher than economist estimates for a larger decline to 1.32 million. This is the second week in a row in which initial claims have come in above expectations, indicating that the jobs market is still facing headwinds created by the pandemic. With that being said, the June 20 report marks the 12th straight week with declining initial jobless claims, which indicates that the worst of the damage to the jobs market is likely behind us, despite the stubbornly high level of weekly initial claims. Continuing unemployment claims also showed improvement, declining by more than expected, coming in at 19.522 million for the week ending June 13, against forecasts for 20 million.
On Friday, May's personal income and personal spending reports were released. Results were mixed, with personal spending increasing by 8.2 percent and income falling by 4.2 percent. Economists had forecast a 9.3 percent increase for spending and a drop of 6 percent for income. The result for personal income in April was bolstered by one-time CARES Act payments, while part of the decline in May can be attributed to the sharp fall in $1,200 pandemic payments, although expanded unemployment benefits continued to support income. The increase in spending during the month was the largest on record, but it only partially offset the 12.2 percent decline in April that represented the worst single-month decline since records began in 1959. Once again, while the May rebound in spending was a welcome development, recovery from the damage to consumer spending caused by the pandemic will likely take some time.
Finally, we finished the week with Friday's release of the second and final estimate of the University of Michigan consumer sentiment survey for June. Consumer sentiment declined slightly during the month, from 78.9 mid-month to 78.1 at month-end. Still, this result is a strong increase for the index, following May's final reading of 72.3. In fact, the June release marks the largest monthly increase for the index in more three years. The much-better-than-expected May jobs report and continued equity market rebound early in the month helped support the increase in confidence in June; however, rising infection figures during the month likely caused the slight pull-back in sentiment we saw intra-month. Increased consumer sentiment typically supports faster spending growth, so this update will continue to be carefully monitored as reopening efforts continue.
What to look forward to
On Tuesday, we'll get another look at consumer sentiment with the release of the Conference Board Consumer Confidence Index for June. Economists expect to see confidence increase from 86.6 in May to 90 in June. As previously mentioned, the May jobs report and solid equity markets are expected to support increased consumer confidence in June, which would be a good sign for June's consumer spending figures. Given the fact that consumer spending accounts for roughly two-thirds of overall economic activity, increasing confidence would certainly be seen as a tailwind for the overall economic recovery. It's worth noting, however, that this index hit a 2020 high of 132.6 in February, so it will be a long way back to match recent highs for consumer confidence.
On Wednesday, the ISM Manufacturing index for June is set to be released. This measure of manufacturing sector confidence is expected to increase from 43.1 in May to 49.2 in June. This is a diffusion index, where values below 50 indicate contraction, so while an increase would be welcome, it would still leave the manufacturing sector in decline. Manufacturer confidence showed surprising resilience throughout the pandemic, but the April reading of 41.5 was the worst result for the index since the great financial crisis. That plunge was driven in large part by factory shutdowns meant to combat the spread of the coronavirus. With more factories opening in late May and early June, the anticipated rebound in manufacturer confidence makes sense. Nonetheless, the disruptions to global supply chains and lowered global demand from the pandemic are expected to serve as a headwind for manufacturers over the short term.
Also on Wednesday, the minutes from the FOMC June meeting are set to be released. There were no major surprises at this meeting, as Fed members voted unanimously to keep the federal funds rate unchanged at virtually zero. In addition, given the recent testimony by Fed Chairman Jerome Powell to Congress during his semiannual monetary report on June 16, economists do not expect the minutes to show much new information. With that being said, the Fed did release updated economic forecasts at the June meeting that showed a relatively bleak outlook for the economy over the next few years so the minutes may contain additional commentary explaining the thinking behind their forecasts. For example, the minutes might show whether any Fed members factored a potential second wave of infections or the prospect of further shutdowns into their expectations.
On Thursday, the international trade balance for May is set to be released. Economists expect to see the trade deficit widen from $49.4 billion in April to $52.3 billion in May, due to a large drop in exports that is anticipated to outweigh a smaller decline in imports. Previously released data saw the trade deficit for goods during the month widen by much more than expected, with exports hitting an 11-year low. Given the disruptions to supply chains and diminished global demand due to the pandemic, it will likely take quite some time for international trade levels to return to pre-pandemic levels.
Thursday will also see the release of the weekly initial jobless claims estimate for the week ending June 27. Economists expect to see initial claims fall for the 13th week in a row, down to 1.34 million from 1.48 million the week before. While continued declines for initial claims would certainly be welcome, the pace of declines has slowed over the past few weeks, indicating that the jobs market still faces significant stress despite reopening efforts. Continuing claims are expected to fall further, down from 19.522 million to 18.9 million. We will continue to monitor these weekly releases until we see the number of claims return to normal levels.
We'll finish the holiday-shortened week with Thursday's release of the June employment report. Economists expect to see the creation of an additional 3 million jobs during the month, following a surprisingly strong 2.5 million new jobs in May. The unemployment rate should decline from 13.3 percent in May to 12.4 percent in June. Although these improvements would certainly be welcome, it's important to look at this release in context. We lost more than 20 million jobs in April and the forecasted unemployment rate of 12.4 percent would still mark the third-highest rate since the end of World War II. Ultimately, while continued reopening efforts are expected to lead to a strong jobs report for June, the road back to a full economic recovery will likely be long. The recent rise in COVID-19 cases has shown there will likely be setbacks along the way.
That's it for this week—thanks for reading and have a great Fourth of July!